As part of its Vision 2030 plan to become an industrialised nation, Kenya is embarking on a $20 billion port project that threatens to destroy a fragile cultural and ecological heritage site along the country's northern coast.
The Lamu-Southern Sudan Ethiopia Transport Plan (LAPSSET) includes a port and oil refinery proposed for construction on the mainland across from the Lamu archipelago; three international airports and three resorts; an oil pipeline from Lamu to southern Sudan, and a massive rail and road network that will connect the region south of Somalia to the rest of Kenya, Ethiopia, and southern Sudan.
An enclave of Swahili culture given UNESCO heritage status in 2001, Lamu is the best-known and most populated island in the archipelago surrounding Manda Bay. Others include Manda, Manda Toto, and Pate. Along with the mainland, each is fringed by an expanse of mangrove forest and nurture coral reefs, endangered dugongs and marine turtles, as well as indigenous tribes that still rely almost exclusively on their natural resources for subsistence.   
In 1977, predicting that Kenya's first port in Mombasa would eventually reach a saturation point, Renardet-Sauti, a group of Swiss engineering consultants, identified Manda Bay as the perfect new location for a second port. Mr. Mahmoud Ali, who heads Lamu's sleepy Kenya Port Authority (KPA), showed The Ecologist satellite images demonstrating hundreds of acres of level territory which - combined with sheltered deepwater - is considered an ideal harvest for long term economic growth 'at relatively low cost,' he said.
In 2009, the government (GoK) began to market LAPSSET as key to building East Africa's most powerful country. The KPA calls it the "Lamu Port Dream." For citizens of the grubby din of sprawling Nairobi, such growth sounds appealing, but viewed from a traditional dhow (sailboat) built in part from mangrove poles the prospect is dumbfounding.
'All this will be gone'
Mr. Atman, a serious, small Swahili man who has worked on dhows since he was ten years old, sweeps his hand from the winding serpentine coral reef to the long shore, where surrounding mangroves dwarf an American navy base. 'All of this will be gone,' he said with a look of resignation, 'all of it.'
Nobody will know the project's real cost until the Japanese Port Consultants (JPC) complete their nine-month feasibility study initiated in June 2010, but it will be too high for the developing country to absorb without foreign investment. The JPC study alone – which will examine all seven components of the port development – will cost Kshs 3.05 billion (approximately £23 million). The GoK raised those funds in part with the controversial sale of Nairobi's Grand Regency hotel to Libya for Kshs 2.5 billion. Most of the remaining capital will be siphoned from private investors.
The transportation ministry issued a second tender mid-October for the first construction phase, which includes dredging and reclamation for the initial three berths. Bidders were asked to submit designs that can harbour container, general and bulk cargo ships with up to 100,000 dead weight tonnages (DWTs). Eventually, according to KPA, the port will have 22 berths and a 1,000-acre quay, and will be the only East African port that can handle the most Herculean cargo ships.   
LAPSSET will be a boost to a once major trading post eclipsed by Mombasa and Zanzibar, according to Hon. Fahim Twaha, Lamu West's Minister of Parliament: 'It will create job opportunities, opportunities for Lamu to grow,' he said. 'It will benefit other parts of the country.'
Officially, the bid's winner has not been announced, but KPA circulated internal news in September that the China National Machinery Industry Corporation – a Chinese state-owned corporation – has shown 'interest.' Circumventing northern Sudan, an oil pipeline from Juba to Lamu will give Sudan's largest oil customer easier access to southern reserves.
China's hand
But China's environmental reputation in Africa is already sullied. Terry Hathaway with the non-profit organisation International Rivers reports that Ethiopia's Gibe III dam project will usurp flow to the Ono River Valley and the desert Lake Turkana, where 500,000 tribal people eke out a trying symbiosis with what few resources they have.
Both the African Development Bank and European Investment Bank rescinded their financial support for the dam, but, unperturbed by enviro-social concerns, the Industrial and Commercial Bank of China (ICBC) stepped in with a $500 million contract to Dongfang Electric Corporation for turbines and electro-mechanical works.
Kenya is similarly ambivalent towards genuine accountability. Hon. Twaha insists that its environmental impact should be monitored 'every step of the way,' adding, however, that the port project will not harm Lamu's environmental or cultural status. 'It is so far away on the mainland, houses are close together, the islands are too sandy. It won't bring too many changes,' he said.
Historically, Hon. Twaha's development ambitions have eclipsed his environmental sensibilities. Earlier this year he was lawfully prevented from building on Lamu's sand dunes, the main water catchment for the island's 100,000 residents.
Lamu is only a 20 minute boat ride from Manda Bay, where the cacophony of ships trudging wanton cargo will shatter the entire archipelago. Everything locals rely on for subsistence will be overrun. Islanders talk as though a quaint new jetty is about to be built; many anticipate job opportunities. Few have any sense of how permanently the project will alter their way of life.
In the early 1980s, Mr. Omar Mzee, a former Minister of Parliament who trained in Wildlife Management, managed both the Boni and Dodori Natural Reserves just north of the port development area. Currently he works as Secretary for the Lamu Environment Protection and Conservation Group (LEPAC) that was formed to bring current conservation science to the archipelago. Then the port project was announced.  'Now that takes up all our time,' he said. 'Dredging will destroy coral reefs, the oil pipeline will cause oil spills, construction will destroy the mangroves, and the endangered dugong will almost certainly be pushed to extinction.'
Mangrove ecosystems
In 1980, 60,000 hectares off the coast north of Lamu was designated a Biosphere Reserve under UNESCO's Man and the Biosphere Project. Dodori Creek comprises the southern edge of that space and will eventually be the port's parking bay. Felling at least 1,000 acres (but probably much more) of mangrove forest will upturn what is already a teetering ecosystem: mangrove tree leaves are among the most absorbent carbon dioxide sponges on earth, providing an environmental service of local, national, and international significance. Their roots also provide refuge for crustaceans and fish species, as well as nesting marine turtles. A meandering warren of the trees' twisted roots keeps soil erosion at bay.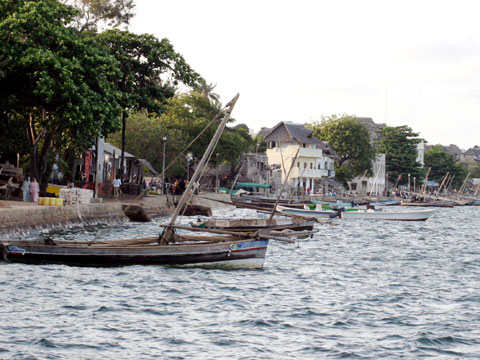 Plans for a major new port could destroy local fishing
Both the endangered Green and Ridley turtles are common here, their populations resuscitated in large measure because of concerted conservation and education programs organised by Lamu Marine Conservation Trust (LAMCOT). Previously prey to poaching and incidental catch, LAMCOT has helped the local community safeguard their valuable natural and tourism resource.
Atwaa Salim, the lead field officer who led a trip to watch the last layer of buried green turtle hatchlings scurry into the Indian Ocean, frets about the development's potential impact on the turtles, the coral reef, and the local community. 'We are worried about pollution and oil spills in the coral area,' he told The Ecologist. 'The rich will become richer and the poor will become poorer.'
It is impossible to exaggerate the coral reef's importance. The entire expanse of Kenya's reef supports approximately 80 per cent of an artisanal fishing industry. In Mombasa, where there are only two shipping lanes, 70 per cent of fish species have declined. There are no exact numbers, but roughly 45-80 per cent of every Kenyan coastal community relies on fishing for subsistence, and the Lamu archipelago is no exception. The reef is also an important tourist attraction, on which residents have become increasingly dependent.
'Tourism-related revenue could earn a lot more for the average Lamu person than the port,' said Mr. Mzee.
People before fish
If the islanders throughout the archipelago lose their mangroves, their coral reef, and tourism revenue, they may as well pack up their donkeys and head to the country's interior. There will be virtually nothing left for them to live on. But the authorities refuse to acknowledge this.
The Assistant Minister of Fisheries and MP for Lamu East, Hon. Chiaba is convinced that the project will 'be for the better.' Asked whether he was concerned that a major fishing area would be cut off, his response was indignant. 'We are just under these environmental things but the people are very poor,' he said. 'We have to take into consideration the welfare of human beings. And then we'll worry about the fish.'
In August, the Kenyan Government ratified a new constitution. That twenty-year crescendo was expected to climax with a new era, to unite the country's numerous ethnic groups, and to clamp down on corruption. According to Lamu's former Chairman of the Council, Mr. Abdalla Fadhil, the constitution should in part ensure more localised control of cultural and natural resources. But the clandestine process surrounding pending growth in the Lamu district gives locals a taste of corruption re-packaged as 'development.'       
'The original Lamu people have been marginalised for decades,' said Mr. Fadhil, who added that 70 kilometers of unpaved road still separates Lamu from civilization, even though it received its heritage plaque in 2001. Until the GoK announced its gargantuan plan, Lamu didn't trouble its conscience at all. Without transmission lines linking it to the national grid, the town is still powered by roaring antique diesel generators, and access to higher education and supplies entails a minimum five-hour bus journey south.
Diluting culture
The Swahili people have fished the generous waters cradling the Lamu archipelago for seven centuries, enduring successive Arab and Portuguese regimes, and though its UNESCO status should have lifted its people out of poverty, the opposite has happened. Property values soared, and wazungus (white people), Masaai, Kikuyu and other non-Muslim people pitched camp. A semblance of the old world still lines the alleyways packed with chickens and children and kikoy-clad men selling tobacco and fried foods, but the pending influx of foreigners has already diluted the culture.  
Lamu's spiritual leader Imam Idarus is vehemently opposed to the development project and has been labeled by opponents as 'poison' because he has so openly spread his criticism among loyal followers. 'The port will completely swallow the Swahilli population,' he said via a translator. 'The Swahili people are not prepared. [It] will bring big business, prostitution, corruption, and drugs.' 'Nevermind the UNESCO world heritage site,' he added. 'The Swahilli people will disappear.'
In 2009, the former Minister of Transportation Hon. Ali Mwakwere first traveled to Lamu with his cheerleading delegation, flooding the island with a Christmas list of reasons to embrace the port, chief of which is job opportunity. But the local leaders questioned what jobs would befit a population of people who barely finished primary school.
'We are ready to help the people,' said Mr. Fadhil – referring to the rest of Kenya, for whom the economic benefits of the LAPSSET project are promised to have been tailored, 'but what will the project do for us?'
Indigenous people
The Lamu district is home to thirteen tribes, including the Sanye, whose tiny population of 500 makes them among the most endangered people on the planet, according to Mr. Mohammed Ali Baddi who works with a non-profit organization that protects the Sanye as well as LEPAC. Along with Mr. Fadhil, Imam Idarus, and a host of other concerned stakeholders, Mr. Ali Baddi approached the Minister of Transport with their concerns.
'We demanded that the government make it public what we are expecting,' he said, 'but the government was never transparent… they are secretly proceeding with the 6700km2 project at a fast pace.'
Omar Mzee penned a letter in November 2009 to Dr. A Muusya Mwinzi with the National Environment Management Authority (NEMA) tasked with ensuring appropriate environmental oversights. The three-page memo outlined the cultural, environmental, and social destruction that LAPSETT will certainly cause.
'In view of the foregoing, and in consultation with the Lamu Council of Elders, the Council of Imams, several environment groups among other stakeholders from Lamu strongly feel that we are being betrayed, and that some individuals are forcing this project down our throats – a project that has no meaning to our wellbeing and that of future generations,' he wrote. Mr. Mzee's main objective was to request an Environmental Impact Assessment (EIA).
In December, B.M.Langwen from NEMA responded: 'The Authority has not received this study report to-date and cannot therefore communicate its decision on the same.' NEMA further promised to dispatch the EIA when one becomes available. Almost one year later, after a second tender for the first phase of construction has been released and closed, no environmental impact assessment has been done.'That is illegal by the way,' said Mr. Ali Baddi.
Defending resources
He and his colleagues refuse to go down without a fight. They have solicited their own environmental impact assessment from an independent third party, as well as legal help from Natural Justice. A South African organization, Natural Justice works (in part) within the United Nations Convention on Biological Diversity (CBD) framework to help indigenous communities defend their right to manage their own land, resources, and way of life.  
According to Gino Cocchiaro, LEPAC contacted Natural Justice earlier this year via INUKA Trust - a Nairobi-based Non Government Organization that is helping to formulate Lamu's biocultural community protocol (BCP).  'The biocultural community protocol can be used as a lobbying tool between the government and various communities,' he said. 'If an outsider wants to use that community's resources, then they will have to seek their consent.'
Natural Justice has legally emboldened indigenous people throughout Africa, Asia, and Latin America, including the Raika in Rajasthan, India.
For as long as the Swahili people have lived in Lamu, the Raika have grazed camels, cattle, goat, and sheep, but their land was being expropriated for outside interests. In June, 2009, a BCP re-embedded the right to negotiate land use within the Raika's long-established governance system called samaj panchayats.
Mr. Ali Baddi is careful to emphasise that the aim of establishing a similar BCP in Lamu is not to swipe the GoK's plans and horde the archipelago, but to ensure that it does not become a sacrificial lamb for China, Sudan and others who stand to pad their coffers.
'We want to engage our government for mutual benefit,' he says. 'We want a good clean port.'