I love the idea of seeing all wrapping paper companies going out of business
Mainstream cosmetics are not usually associated with environmental friendliness, but since Mark Constantine launched Lush in the mid-1990s the cosmetics company has steadily been trying to bring green practice and principle to the high street and the industry.
Lush was born in 1994 out of the ashes of a mail-order company, Cosmetics To Go, which went bust that same year. Before that Constantine and his business partners were the main suppliers to Anita Roddick's Body Shop.
'Starting from scratch allowed us to put the environmental principles in easily. They suited our needs and we could afford nothing else,' says Constantine. 'We were consuming less and so spending less. That's the wonderful thing about the environmental approach – it's so business-friendly.'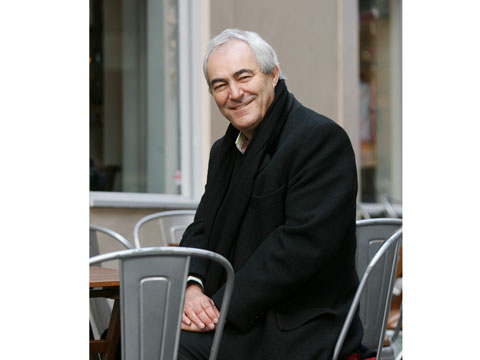 A lifelong birdwatcher, the entrepreneur's commitment to the environment was cemented during the 1970s, witnessing the environmental degradation of Poole Harbour, where Lush is based, and close to where Constantine was raised in Weymouth.
As for how successful the marriage of environmental and business concerns has proved, Lush now has 675 shops in 43 countries, with worldwide turnover last year of £215 million.
Naked packaging
Lush's big innovation is 'naked' cosmetics – products sold without packaging. Initially sceptical about the public's response to fishing their soaps and scrubs out of bins, Constantine counts the opening of the first Lush shop in Poole, in 1994, as his greatest success.
'Contrary to what I thought, they went for it. It was about having the nerve to present something to the public in a new way. Realising you could shed it all gave us the nerve to carry on doing so.'
He makes no bones about where he stands on the subject of 'non-naked' cosmetics, calling his industry 'a subdivision of the packaging industry, selling huge amounts of packaging with some product', and adding that he 'loves the idea of seeing all wrapping paper companies going out of business.'
Its longstanding opposition to animal testing notwithstanding, critics still find some of Lush's ingredients a cause for concern, however. Committed to 'making effective products from fresh organic fruit and vegetables, the finest essential oils and safe synthetics', some also contain harmful detergents such as sodium laureth sulfate (SLES), sodium lauryl sulfate (SLS) and cocamide MEA, emulsifiers and surfactants such as triethanolamine, and worrying preservatives including methylparaben. Constantine is bullish in his defence of their use.
I love the idea of seeing all wrapping paper companies going out of business
'These materials have become marketing buzzwords for people wishing to scare others into buying their products. It's fiercely unethical and it pisses me off. We're making considered judgements about ingredients that have a long history of use; we know what we're doing; we understand them very well. You can't make cosmetics in solid form without SLS, for example – without it we would need to use plastic bottles, meaning petroleum, more energy, byproducts, landfill. We're using only minimal amounts of preservatives and only in 30 per cent of our products. We present the facts and all ingredients on our website, and stick with what we believe is correct – it's totally transparent and you can make the judgement for yourself.'
From gourmand to gourmet
In terms of what the company could do better, Constantine describes a dynamic and ongoing 'push-me-pull-you' of ideas and suggestions within the company. Ruth Andrade, Lush's environmental officer, is keen to press ahead with plans for refillable bottles.
Factories are another issue. Lush currently rents its six factories (two in Canada, and one each in the UK, Croatia, Japan and Australia) but would like to own them in order to improve emissions reductions, insulation levels and energy efficiency as much as possible. The ideal would be smaller factories closer both to the raw materials from which its products are made and the shops that will sell them – Constantine is currently looking into creating a 'dream factory' in Poole, one that operates a closed-loop system, generating its own power, reusing its waste…
'It's something to aspire to – that's what really enables us to get excited our business. We're struggling everywhere, at all times, to improve. How successful are we at being green? We just work at it all the time.'
The company has recently started to work with [consumer organisation] Ethical Consumer in order to audit more of its suppliers and is keen to encourage the use of solar stills in the essential oils industry.
Unusually, next year it will also be aiming to reduce consumption, or rather to streamline it. With the nation's bathroom cabinets – and landfill sites – clogged up with 2-for-1 and buy-one-get-one-free offers, Constantine has stopped discounting Lush products and elucidates a plan to rewire the consumer mind by improving customer service and marketing, persuading shoppers to take their time over their purchases rather than 'gobbling up and spewing out'.
'It's the difference between gourmet and gourmand consumption – consumption with no taste, no quality, no thought or discerning aspects. As a business we could substantially reduce what we consume and still have dynamic situations. By spending half as much on the wrong things we could afford to spend more on the right things. That's what everyone should be aiming for: running a business, turning a profit, but cutting away all that unnecessary bit.'
Innovate and generate
As much as any entrepreneur, Constantine loves innovation – indeed, keeping creative minds interested, involved in and constantly working to evolve their green businesses is vital to their success. But businesses also have to sell things that people want to buy. As Constantine points out, the first Lush shoppers didn't understand the products in environmental terms, they just liked them.
With increasing numbers of companies beginning to appreciate the cost-effectiveness of becoming more environmentally friendly, does he think it matters if the decision to green-up is based purely on the bottom line, without any real desire to make a difference?
'For those causing the most damage, the quicker they come to the decision that it's financially more sensible to stop the better – anything's better than business as usual. That's the engine for all of us who believe in buying things ethically. But the more philosophically inclined to that change they are, or to new legislation, the easier it gets.'
Asked to put a price on how much Lush has saved by going green, he says it 'tends to get frittered away' on new ideas. A move to completely recycled packaging five years ago apparently added £100,000 to the company's costs. 'But did it really? Did we notice it?' asks Constantine rhetorically. 'Close analysis would probably show it actually reduced cost, but I tend to turn blind eye if I want to do something!'
Phrases such as 'frittered away' and 'turn a blind eye' are only in the lexicon of certain businesses – the profitable, independent ones. Its healthy turnover means Lush is more able to afford expensive environmental improvements to shops, such as LED lighting, while being privately owned allows it to support issues and organisations that it cares about. Lush has made significant donations to Clear Skies, Seeds for Change and Stop Stansted, among others, while Constantine paid the court fees for 56 Plane Stupid activists arrested in 2008 for shutting down Stansted Airport.
Not all green business are fortunate enough to control their own affairs. Among the many that have fallen prey to larger corporations, Bodyshop was bought for £652 million by French cosmetics giant L'Oreal in 2006, itself a third-owned by the world's largest food group Nestlé. The sell-out starts early on in a green business's life, says Constantine.
'Most green businesses took investment early on in order to grow and reached a point beyond which they couldn't survive. The key is not to give away controlling shares, to work any way you can to control your own business. I'm not being critical, but what we need is new generation of businesses that understand that the goodwill given to them by more ethical consumers deserves to be respected.
'But there's so much scope out there at the moment that I don't feel pessimistic at all – I would like to see stronger environmental and ethically minded group of companies out there, and I'm hopeful that we will.'
Eifion Rees is the Ecologist's acting Green Living Editor