Drinking tea is a national obsession, whether it's a builder's teabag dunked in a mug with three sugars or a delicately brewed loose-leaf green tea with honey. Without a daily cuppa (or three) many of us would feel dazed and disorientated. After the Republic of Ireland, Brits drink more tea per head than anywhere else in the world. According to the UK Tea Council, we brew around 165 million cups of tea a day. As well as its ability to console, uplift, relax and simultaneously give you a buzz, tea is a wonder plant containing high levels of anti-oxidants, which can help with a wide variety of ailments including cancer and heart disease.
Whatever the flavour or blend, black, green and white teas are all made with the leaves of the same plant, camellia sinensis, but have been processed differently. Black teas are the processed using fermentation, while green tea is steamed to prevent oxidisation, and as a result contains more anti-oxidants. White tea, the least processed of all, also contains a high level of anti-oxidants. Although there are plenty of good reasons to drink tea, not all brews are equal. Tea production can be labour intensive, with low wages and poor working conditions. Buying Fairtrade obviously helps. How the leaves are grown is another issue. Mass-market tea is sprayed with chemicals that affect waterways and wildlife and the finished product may also contain pesticide residues. Organically grown tea has less of an impact on the environment. And of course, there's far more to infusions than simple cups of camellia sinensis.
DOWNLOAD THE FULL 'WHAT'S IN YOUR CUPPA?' SPECIAL INVESTIGATION HERE (PDF)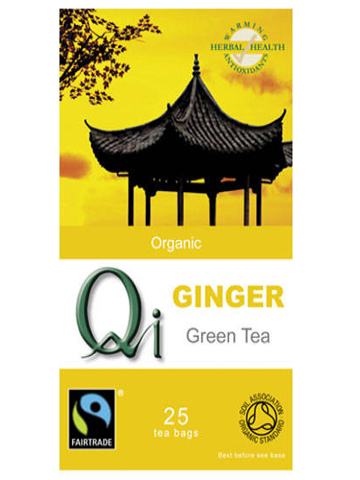 Qi Ginger Green Tea
Unless sweetened with honey, green tea can taste a little bitter. Adding a twist of ginger, mint or lemon is a simple way to sweeten it up and Qi's Ginger Green Tea, £1.60 for 25 bags, is particularly moreish. The company has a close relationship with a Fairtrade association of small independent farmers based in southern China and the range is 100 per cent organic. Also recommended is the White and Spicy Tea (white tea with added cinnamon, cloves, ginger and orange).
www.qi-teas.com
Steenbergs Organic Green Tea with Peppermint
This loose-leaf tea, £4.80 for 125g, was a favourite in the Ecologist office and quickly ran out due to popular demand. With no need for a teapot or even a strainer, one teaspoon in a glass with some hot water makes for a refreshing brew and gives you a gentle green-tea buzz. Steenbergs Organic is a Yorkshire-based, family-run firm best known for its extensive range of organic herbs and spices. Tea-wise, its speciality is tins or bulk bags of loose-leaf tea, including chai, black, green and white teas.
www.steenbergs.co.uk
Clipper Fairtrade Everyday Tea
Clipper is the organic, Fairtrade range you're most likely to see on supermarket shelves. The flagship blend is the 'everyday tea', £1.49 for 40 bags, available as Fairtrade, organic or both. Started in 1984 by Mike and Lorraine Brehme with just two chests of Assam tea from a single tea estate, Clipper has grown to encompass a huge range of teas, both plain and exotic. Also recommended is Organic Nettle and Mint.
www.clipper-teas.com
Tregothnan Earl Grey
Tea grown in Cornwall? It might sound unlikely but the Tregothnan estate near Truro uses tea grown in the grounds and blends it with imported leaves to create classics such as the Earl Grey, £8.31 for 50g, which is mixed with Assam and bergamot. Attractively packaged in a silver tin, the loose-leaf tea (also available in teabags) might be pricey, but the novelty factor makes it a good present.
www.tregothnan.com 
Lahloo Amber Oolong Tea
This range is all about loose-leaf tea from small, artisan tea gardens. Oolong tea falls halfway between green and black tea, partly oxidised. Amber Oolong Tea, £6 for 50g, comes from Ming Jian village in Nantou County, Taiwan, where the moist hills, cool weather and soils are perfect for tea-growing. Charcoal-roasted, it has a smokey, chocolatey, passionfruit flavour. Lahloo tea is fairly traded and organic.
www.lahlootea.co.uk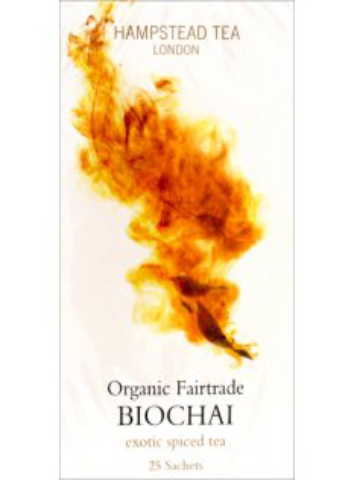 Hampstead Biochai
Based on a traditional Indian recipe, this chai, £1.89 for 25 bags, is made with Fairtrade biodynamic black tea, root ginger, lemongrass, pepper, cardamom seeds and cloves. It hails from the Makaibari tea estate in India's Darjeeling province, the world's first certified biodynamic estate and the last owner-managed estate in the district. 66 per cent of the acreage is undisturbed rainforest.
www.hampsteadtea.com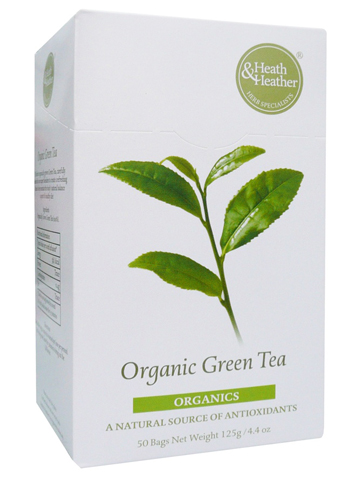 Heath & Heather Organic Peppermint Tea
Herbal and fruit tea fanatics will know this range well. Heath & Heather is ideal for those who want to venture beyond the usual chamomile and peppermint, and experiment with liquorice, pomegranate, rosehip, fennel and nettle. Herb specialist, Heath & Heather, has been around since 1920, established by brothers Samuel and James Ryder, who wrote specialist books on herbs and their benefits. There are no artificial flavours, preservatives or colouring in the teas and the Peppermint Organic blend, £1.39 for 20 bags, is a great way to get started.
www.heathandheather.co.uk
Wild Rooibos

Also known as 'bush tea', rooibos is a native South African herb, whose colour and deep, rich taste make it a good caffeine-free substitute for black tea – especially as you can enjoy it with milk and sugar. Unlike most rooibos, which is industrially farmed as a monocrop, Wild Rooibos, £6.50 for 50g, comes from a small farm in the Cederberg Mountains, and is grown without pesticides or herbicides, and harvested by hand. Leaving the mountains uncultivated and ungrazed encourages local endangered leopards to survive and thrive.
www.rareteacompany.com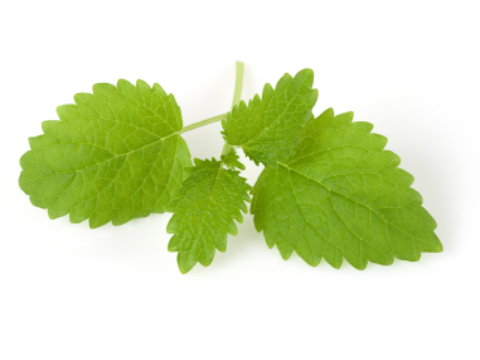 Neal's Yard Remedies Lemon Balm and Rose tea
These medicinal teas are sold ready-to-go in paper packets or can be measured out from glass jars behind the counter of Neal's Yard stores. The extensive range includes Lemon Balm and Rose tea, £3.80 for 50g, a nerve tonic that helps to relieve the symptoms of tension and stress, Coltsfoot and Sage tea, to support the respiratory system, and Dandelion and Red Clover tea, to help detoxify the body. www.nealsyardremedies.com
Pukka After Dinner Tea

This calming blend of fennel, chicory and cardamon, £2.09 for 20 bags, is designed to help soothe and support the digestive system. Pukka herbal teas are based on the ancient wisdom of ayurveda; the art of living wisely. Its organic teas pack a punch in the flavour department too, with the Three Ginger, Three Mint and Three Berry blends, coming highly recommended.
www.pukkaherbs.com
 
READ MORE...
GREEN LIVING
The Byocup: a reusable alternative to paper
Millions of trees are cut down for paper cups every year, the majority of which end up in landfill. With that in mind, isn't it time you swapped your paper cup for something more sustainable?
GREEN LIVING
PICK OF THE DAY: Crazy Jack Organic Butter Biscuits
Wholly organic and (fairly) good for you, Crazy Jack's organic butter biscuits are a tasty teatime treat with an eco-friendly twist
GREEN LIVING
Where does your instant coffee come from?
A new photographic exhibition - Made in Coorg - looks at what life is like for the coffee growers of the Coorg district of southern India, where the highly fertile land is increasingly sought after for larger plantations and tourism projects
HOW TO MAKE A DIFFERENCE
CASE STUDY: Growing coffee more sustainably in Costa Rica
It's not organic but 'pro-environmental sustainable' farming practices could help coffee farmers move away from damaging industrial monoculture
INVESTIGATION
Water, water everywhere?
You've heard of carbon footprints, right? You may even have calculated your own? But what about your water footprint? Have you ever considered how much 'hidden' water it takes to make your cup of coffee in the morning or indeed the tomato in your sandwich?