Many things get better with age. Quality clothes, classic cars and antique furniture all become ever more lovely as the decades roll past. Whether you like to keep second hand pieces the way you find them or upcycle them into something new, finding or rescuing something with timeless appeal always feels like a triumph. Artist Catri Osborne-Barrett believes that 'the potential for upcycling is enormous, from damaged furniture and quarter-full tins of paint to the buttons on a stained and torn shirt.'
Growing up with a family who ran a storage and removal business, natural hoarder Catri wasn't allowed to throw out customers' unwanted items so began experimenting with techniques for giving other people's junk a new lease of life. 'AlI the pieces I upcycle have been rescued from landfill and although I work with anything, it's usually furniture as that seems to be what people throw away most often.' She specialises in turning damaged furniture into contemporary, iconic pieces and constantly develops new techniques. She also likes to experiment with different materials. 'For me, another person's rubbish is my treasure and I see upcycling as a way to give old things a renaissance,' she says. 'It gives me a thrill to turn something that people turn their noses up at into something that they desire and are willing to pay money for - all created with materials that people have thrown away. To me upcycling is all about giving something a 'new life.'
Another expert upcycler is top ethical fashion stylist and founder of Ethical Heaven, Lupe Castro. 'If a beautiful chair is missing a leg it doesn't make it less beautifuI,' she explains. 'I feel I need to sort of help it along by maybe using a rolling pin covered in material or a varnished brick, a marble bauble or part of an iron balustrade. The trick is to give it a new but beautiful twist.' The latest pieces she's been refashioning are some travelling trunks that she found tucked away in her new apartment. She describes them as 'a little bit worse for wear' but says they're evocative of a bygone era where train travel, painted faces and cocktails at six were de rigueur. 'I took the trunk and stuck an old mirror in the flap and covered the rest with leftover materials that both my mother and grandmother had knocking about, and have used them as dressing table. I love boxes and ribbons and secret nooks and crannies – every time I open the trunk I feel like I'm jumping into another time and it makes me so happy.'When it comes to sourcing furniture, Lupe swears by the Salvation Army shop in Wandsworth, flea markets and small town auction houses, although she admits that some of her best finds have come from skips on the street.
Owner of seven-year-old west London treasure trove Last Place on Earth, Simon Belsher stocks a truly eclectic mix of restored and distressed furniture and retro bits and bobs for the home. Situated just minutes from Latimer Road tube station Last Place on Earth emphasises its British heritage with its Union Jack covered, reupholstered stool and chairs. Simon specialises in painting and deconstructing furniture but can turn his hand to upholstery and a bit of carpentry. He describes his work as 'mend and make do.' His simplest creation so far is a medicine cabinet. This, he says, was made from old wooden boxes with hinged lids. 'We painted them off-white, distressed the paint, painted a red cross on the front and it's a bathroom medicine cabinet,' he enthuses. He's also turned an upside-down side table into a baroque four-poster dog bed and a 70s telephone seat into a mini chaise longue. To a repainted country pine kitchen table base, he added a top made from stained and highly polished scaffold planks. This he says 'became very grand.'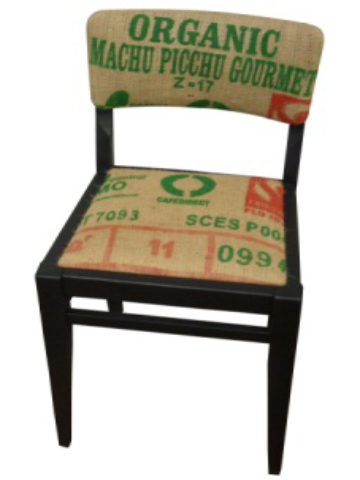 But it isn't just antique shop owners and artists who know a thing or two about upcycling. One of UK's best known Fairtrade coffee companies, Cafédirect is also getting in on the act. They first began experimenting with upcycling when they collaborated with fashion designer Wayne Hemingway on a project to create a pop-up café, which they named 'Container House'. 'We wanted to create a pop-up café to take Cafédirect coffees from around the world on the road, but didn't want to create something made from new, manmade materials,' says Events and Experiential Manager, Yasmin Koomar. Everything inside Container House was upcycled including the furniture, which was reupholstered with Cafedirect coffee sacks. 'The furniture at Container House was the simplest to refashion and it's easy for other people to try out too,' says Yasmin. 'We reclaimed unloved pairs of chairs from lots of different eras, sanded them down and repaired any damage.' All the upcycled furniture was reclaimed and renovated by furniture gurus at ReStore Community Projects. 'We used old coffee sacks to give our reclaimed dining chairs a new lease of life,' adds Yasmin, 'but you can use any fabric to recover your furniture'.
The pieces created by Simon, Lupe and Catri might look spectacular but you certainly don't need to be an expert to try your hand at upcyling. As all the experts would agree, with a bit of leftover paint and fabric, it 's a quick and easy way to give unloved furniture a new lease of life. After all, what could be more satisfying than knowing the piece everyone wishes they had was once a piece of junk?
Address Book
Whether it's inspiration you need or if DIY leaves you cold, these boutiques are packed with fabulous upcycled pieces
Ethical Eco Art
50 Monument Business Park,
Chalgrove
Oxford
OX44 7RW
Tel: 01865 400688
www.ethicalecoart.co.uk  
Last Place on Earth
37 Bramley Rd,
London W10 6SZ
Tel: 07958 244 609
www.qype.co.uk
For more information on upcycling from Lupe Castro, Tel: 07836742020 or visit www.lupecastro.com
READ MORE...
GREEN LIVING
Erik Zwaga: Belgium's newest eco-design star
With a talent for breathing new life into what most of us would regard as junk, designer, Erik Zwaga, has taken the art of upcycling to new heights
GREEN LIVING
Shades of green: colour blocking the eco-friendly way
One of this season's biggest trends, colour blocking is the coolest way to brighten up your home. Here's how to do it the eco-friendly way
GREEN LIVING
Laundry: how to make it green
From chemical-based washing powders to electricity-hungry dryers, doing the laundry is worse for the planet than you might think. Here's how to clean it up
GREEN LIVING
The Byocup: a reusable alternative to paper
Millions of trees are cut down for paper cups every year, the majority of which end up in landfill. With that in mind, isn't it time you swapped your paper cup for something more sustainable?
GREEN LIVING
Ethical insect catchers: do they really work?
Instead of dispatching creepie crawlies with bug spray; how about letting them live by using a humane insect grabber to get rid of them? We took the Snapy and the Ethical Spider Catcher for a spin