The richly woody scent of frankincense and its close relative, myrrh, has become synonymous with Christmas. Along with gold, frankincense and myrrh were the gifts presented to the Christ child as he lay in his crib by the Three Wise Men, and today, both are used widely in Christmas candles, beauty products and burner oils. But with around 90 per cent of the world's myrrh supply originating in Somalia and much of its frankincense sourced from Yemen, how ethical can they really be? And with resinous frankincense and myrrh trees becoming ever more rare, is there anything eco-friendly about frankincense Christmas candles at all?

Native to desert ecosystems, frankincense and myrrh are crucial to the economic wellbeing of some extremely vulnerable regions. For thousands of years, people have collected the precious sap for use in beauty. But the Horn of Africa, where much of it originates, is plagued with conflict, human rights abuses and corruption. A recent report by the United Nations listed Ethiopia as 174th on the Human Development Index (HDI) while Somalia is absent thanks to a lack of official data. Ethiopia remains one of the poorest countries in the world with an average annual income of just US$170 and almost half of the population (44 per cent) living below the poverty line. In Somalia there has been over 25 years of civil conflict without a state government. Lawlessness has devastated the country and destroyed many of their natural resources.

East African population growth has also had a big impact on the landscape. Farmland expansion, overgrazing, bush encroachment and human-induced fires have all degraded what little fertile soil remains. Frankincense and myrrh can survive in harsh conditions but poorly managed forests and excessive tapping are hastening their demise, according to research conducted by the Centre for International Forestry Research (CIFOR). Desert regions are in a delicate balance; vulnerable to desertification and threatened by climate change. This year's drought in the Horn of Africa, one of the worst in six decades, has only exacerbated the perilous conditions.

So what does that mean for international consumption of frankincense and myrrh? Essential oil producer, Lubanchem Limited, points to the holistic benefits of wild crafted organic essential oils, sourced ethically from Sub-Saharan Africa. But like other farmers in the region, their harvest of frankincense and myrrh were affected by the drought. 'In order to produce the resin the trees need moisture during the night or rainfall for a few weeks. In the absence of rain there is not enough moisture or sap being produced and hence not enough gum,' comments Lubanchem's Sadqa Haq. 'This leads to unethical and methods of collecting tapping gum that are not sustainable.'


Yet, these countries depend on frankincense and myrrh for their livelihood and are the main suppliers of these raw resins. The frankincense region in northern Somalia, for example, is almost devoid of any other exploitable resources making the industry the third most important source of dollars. However, the International Center for Agricultural Research in the Dry Areas (ICARDA) has found that due to a lack of a quality control and access to international markets, Somalia has become dependent on Gulf trans-shipment markets. Merchant cartels have pushed down demand due to international control and in turn reduced the price of this valuable commodity.

The international trade quantification of frankincense and myrrh is almost impossible, as they are not explicitly recorded in trade statistics. The Network for Natural Gums and Resins in Africa (NGARA) estimates that total world demand for frankincense and myrrh is around 2500 tonnes per year although this figure was reached using a significant amount of guesswork. Not recognising the significance of separate classification, these sought after scents are part of the umbrella category of 'gums and resin'. Further complicating the supply chain, political agenda, economic policy and external market forces have all impacted on production; forcing growers to increase harvest intensities to make their trade profitable.


The commercialisation of sustainable Non Timber Forest Products (NTFP), including frankincense and myrrh, can help alleviate poverty and improve livelihoods. But organic certification and Fairtrade standards remain difficult or costly to introduce as the source of the commodity (the trees) is often hidden. Shrouded in secrecy, a sustainable supply of these scents is limited. With a severe lack of bargaining power, producers are often helpless. Communal ownership and management of resources through indigenous institutions has thus shifted to private businesses. A potential loss of centuries of insight, the sustainable management of forests can only be achieved through the preservation of native know-how.

Like other forest areas, frankincense and myrrh plantations have the potential to combat desertification, conserve biodiversity and sequester carbon. But woodlands must be managed in order to prevent overuse. The government and private sector should be involved in helping to protect this ancient tradition, helping it transition into the international market through improved production systems. Establishing a sustainable industry will improve quality of life so long as it considers contextual factors that marginalize livelihoods. Semi-nomadic communities where women supplement family incomes seem to be on the fringes of society, most reliant on the resin industry. Several importers are now working on organic and Fairtrade standards with these groups according to CIFOR but more could be done.

The contribution of gums and resins to local livelihoods is increasing. NGOs are intensifying their efforts to improve management of the resources for sustainable livelihoods. A growing interest from all stakeholders is likely to increase the economic and social benefits derived from these resources and consequently their management. Trade liberalisation in Ethiopia has helped increase commercialisation of frankincense. The global demand is growing and CIFOR found that commercial activity has created employment opportunities and income for an estimated 25,000 to 35,000 Ethiopians annually. Of these, about 90 per cent are believed to be poor, rural people.

The plight of the poor in Sub-Saharan Africa has not gone unnoticed. Many companies are starting to realise the importance of a sustainable production system. Working directly with tappers, they can avoid any adulteration. Lubanchem, for instance, work directly with the collectors of the gums and resins both in North Eastern Kenya and in Somalia to ensure collectors benefit while the gums and resins remain pure. Their collectors are trained how to harvest frankincense, myrrh and other gums in a sustainable, organic way and and are paid a premium for their efforts. In addition they support the collectors with advance payments and make fixed payment to the community to assist them in development. 'It is extremely hard work in vulnerable countries, especially with the lack of proper infrastructure, communication and security,' says Haq, before adding that the company are not aware of any unsustainable practices in the Puntland region of Somalia where part of their work is done. 'Frankincense trees belong to the clans and are passed on from one generation to another,' adds Haq. 'Normally inherited by the males in the family, clans understand the importance and value of these trees to their livelihoods. As such [they] take care to ensure the protection and sustainability of the trees.'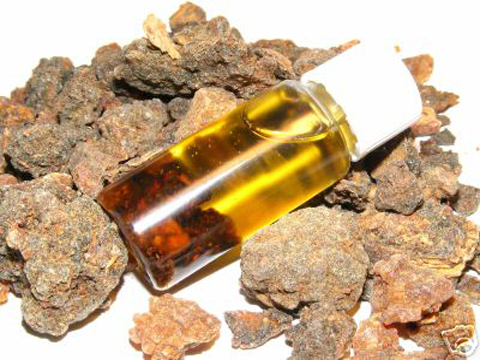 Fairtrade fragrance company Himalaya also work directly with tapping communities in Somaliland. They haven't seen a noticeable increase in global demand but the 'growing awareness of the natural benefits of natural therapies' may affect markets in the near future, according to Dr Moktar O. Guelleh. 'The species that grow in Somaliland are currently not overexploited, except perhaps the Coptic frankincense (boswellia frereana) which is exported to the Arabian Peninsula where it is used as chewing gum,' he reveals.

Although these companies insist that unsustainable practices are not occurring in the Horn of Africa, evidence conducted by organisations specialising in forestry research suggest otherwise. Indeed, Himalaya feels 'a thorough study of the current state of the trade is sorely needed.'  A guaranteed price for tapping communities and economic incentives to reduce trade barriers could all help but none can be successfully implemented until the day that frankincense and myrrh are given separate classification on trade statistics to allow for proper management of the supply chain.  As a consumer, Haq believes we need 'more awareness. Ask the big buyers such as The Body Shop [to] deal directly with the producers in sub Saharan Africa. Stop buying adulterated cheap essential oils that do more harm than good'. Knowing what lies beneath the label is becoming ever more important. Mass production of cheap commodities and cash crops threatens livelihoods. In Africa, in particular, our support is needed to guarantee the sustainable production of the frankincense and myrrh trade.

Sustainable scents: two to try
Neal's Yard Frankincense Face and Body Gift Set, £38.00
Ethically sourced frankincense plus organic mandarin essential oils are a wonderfully festive combination, and this is one gift set that lives up to the hype. Particularly good is the Hydrating Cream, a light organic daily moisturiser that leaves skin feeling soft and smooth, while the Frankincense and Mandarin Shower Cream will give your daily ablutions a Christmassy twist.
Find out more: www.nealsyardremedies.com
Himalaya Gold, Frankincense and Myrrh Gift Set, £12.99
Inspired by the Three Wise Men of biblical fame, Himalaya's festive gift set contains a sachet of frankincense resin, one of myrrh and a gold candle fragranced with orange and cinnamon essential oils. Throw a little of the Fairtrade resins on the fire to beautifully scent your home.
Find out more: www.himalaya-uk.com
 
READ MORE...
GREEN LIVING
Spices: the true cost of a kitchen staple
From habitat loss to human rights abuses; as Jeff Holman discovered, your pepper, saffron and turmeric aren't quite as innocent as they seem
GREEN LIVING
How to... make your own Christmas decorations
Instead of heading to the supermarket for your baubles, take the green route and create your own
GREEN LIVING
Top 10…Christmas markets
Whether you're after an locally reared turkey or a handmade ethical gift, a festive fair is where you'll find them. The Ecologist has the lowdown on Europe's best Christmas markets
GREEN LIVING
How to... make your own Christmas decorations
Instead of heading to the supermarket for your baubles, take the green route and create your own
GREEN LIVING
Eco beauty heroes 2011
From the brands making strides towards reducing packaging to the nail polishes made without toxins, Green Living Editor Ruth Styles salutes the beauty brands who have gone further for the planet this year