I'm sitting in a huge, futuristic-white room in the Louwman Museum in The Hague when suddenly the back wall swings up to reveal a shiny crimson car. It rolls forward silently before coming to a halt in front of a room packed with journalists. This, the Ampera, say its makers, Vauxhall, is the future of eco-friendly motoring and a good-looking beast to boot. Good looks, I thought. Well yes, OK. But eco-friendly? How eco-friendly can driving really be? The Louwman Museum was the perfect place to find out.
The Hague's Louwman Museum is dedicated to cars past and present with the odd plane or two to spice things up. The museum's restaurant is located in a vast hangar-like space tricked out to resemble a turn-of-the-century Dutch town, complete with perfectly realised replicas of a plate-glass fronted haberdashery, a grocer and an impressive recreation of a neo-Palladian town hall facade. Slightly at odds with this rose-tinted vision of municipal history is the basket from a Zeppelin airship that hangs massively over the shops at one end of the vast space. Go under the Zeppelin and into the next room and you'll find a classic car fan's vision of heaven. From the lumbering touring cars of the 1920s to the sleek bullet-shaped 1964 Aston Martin DB5 as driven by Sean Connery in Goldfinger; the Louwman Museum's collection deftly charts the course of motoring history right up to the present day and the futuristic Vauxhall Ampera.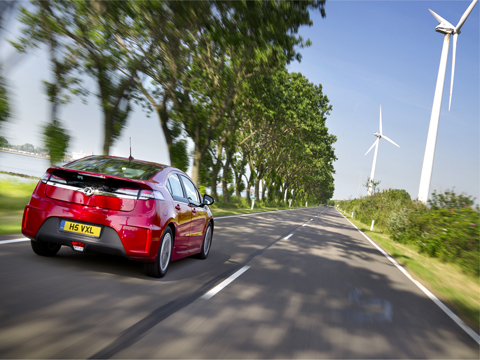 Particularly interesting was how much car design changed in the 40 short years between the touring cars and the DB5. Heavyweight chassis, low speeds and eye wateringly high prices gave way, via the Ford Model T, to beautifully light, quick models that were great to drive and relatively inexpensive. So where do electric cars come in? Vauxhall's Ampera might be the latest but the concept of electric and hybrid cars isn't anything new. Remember when the Toyota Prius caused a stir after Leonardo DiCaprio was spotted driving one down Rodeo Drive? It was just a shame that he chose a hybrid – a semi-electric car with a small battery helping along a big combustion engine encased in a hideously utilitarian plastic shell. Did the environment benefit much? Not really. While there are wholly electric cars out there – the Citroen C-ZERO springs to mind – few have much range and fewer still take less than four hours to charge up. Added to that, most tend to be so heavy that any kind of driving pleasure is snuffed out and that's before you end up fuming on the dual carriageway with a flat battery. In terms of development, most of the electric and hybrid cars on offer are still on a par with the Ford Model T, if not nearly as cheap. The Ampera, however, is different.

It's not 100 per cent electric but neither is it your typical hybrid. Unlike the Prius, the Ampera has a 16kWh lithium-ion battery pack that feeds an advanced 111kW/150PS electric drive unit backed up by a mini petrol motor for when the power runs out. Along with a 50-miles worth of electric power per charge, this gives the Ampera the wheels to go long distance and means it's a viable option for country-dwellers. Like other electric cars, it's stealthily silent, but despite the heavy battery, it drives comfortably and handles well in the city. Vauxhall say it's designed with families in mind and there's certainly plenty of space in the back and the boot, although the £28,995 price tag means it doesn't come cheap. But what about its environmental credentials? According to Vauxhall's Enno Fuchs, the Ampera is set 'to play an important role in providing independence from fossil fuels.' Given that there are currently 900 million cars on the road, 98 per cent of which rely on diesel and petrol, that's no bad thing, particularly when you consider that the number of cars on the road is set to rise to 1.1 billion by 2020. That's an awful lot of fuel. But electric motor aside: how green is the Ampera really?
While there are plenty of environmental issues surrounding motoring, the two key ones are the enormous carbon footprint created by manufacturing cars and the colossal amount of fossil fuels they need in order to work. Thanks to the low range and high prices of electric cars, many environmentally aware consumers have turned to second hand as the 'less bad' alternative to buying new. Others have pointed out that fossil-fuelled power stations are the source of the supposedly 'green' electricity for your eco-friendly vehicle. So where does the Ampera fit in? It certainly produces fewer emissions than the average car, emitting nothing when running on electric power only and 40g per kilometre after that. Compare that to a regular petrol or diesel car producing anything from 160g per kilometre to a whopping 225g per kilometre, and you've got an impressive carbon saving. Manufacture, admittedly, is no different to that of any other car but unlike the majority of electric cars, the Ampera is under lifetime warranty and the electric battery is guaranteed for the first eight years of its life. What's more, although the electric range is likely to drop by around 10 miles after the car's ninth birthday, it can, according to Vauxhall's environmental manager Ian Allen, go on for another 10 years at least, which gives it resale potential. Power is still a problem and without doubt, if you use a regular electricity supplier, you will end up using power generated by burning fossil fuels. Vauxhall, however, have come up with a novel solution in the shape of discounts and incentives for Ampera customers who use green energy suppliers, and the scheme is currently being trialled in Germany. Your electricity bills are also likely go through the roof, but say Vauxhall, that still works out at around £3 running costs per 100km compared with £7 per 100km for the average diesel.
So the Ampera is greener than a regular car, goes for longer distances than a regular electric car and comes with a whole host of tax breaks including a £5000 government grant to put towards the initial cost plus zero TFL congestion charge, zero Vehicle Excise Duty payments and five per cent company car taxation. But is that enough to make it a genuinely green option? It's a tough question because regardless of whether a car is electric or not, its manufacture creates a huge carbon footprint. Then there's the question of whether or not electric cars actually reduce your carbon footprint at all. A study last year by WWF Germany found that the difference was minimal, particularly if the car used electricity generated by a coal-powered plant. As ever, making green motoring work comes down to personal choice and going the extra mile. If you're prepared to switch to a green energy company, car share and drive economically, then the Ampera could be the green solution you've been looking for. And with an 18-year lifespan plus an eight-year, 100,000-mile battery guarantee, there's no need to replace it anytime soon – and that could be the biggest carbon saving of all.
The Vauxhall Ampera goes on sale early next year. Prices start at £28,995. www.vauxhall-ampera.co.uk