It's hard to imagine what the housewives of Wakefield made of Keith Abel when he first turned up at their front doors in the late 1980s asking if they fancied buying a bag of his spuds. Even harder to imagine quite what Abel, an alumni of Caldicott prep school and Rugby College who earlier that year had been studying to be a barrister, thought he was doing there.
'I had just failed my bar exams,' Abel explains. 'I went to bar school, got fed up with doing my finals and failed them. While I was at university I sold potatoes door-to-door. When I failed my bar exams I had a choice of either re-sitting them in September or re-sitting them the following summer. I thought I'd sell potatoes in London, no-one was doing it and I was bloody good at it, and then I'd re-sit my bar exams the next summer and, well, that was it.'
On his first day as a professional potato salesman, Abel shifted a metric tonne of spuds. He told everyone who bought a 10lb sack that he would be back the next week with another one, and that if they weren't in he would leave it behind the plant pots. 'The following week,' he says, 'I had two vans. One was delivering the previous week's sales and another van was getting new customers.' By the end of the year, he had six vans and had begun employing a succession of Australian drivers to deliver the potatoes. He had also started buying wholesale from farmers. With help from an old friend, Paul Cole, he had started the business which became the UK's best-known organic fruit and veg delivery service, Abel & Cole; a business that is expected to turn over £36m in revenue in 2011.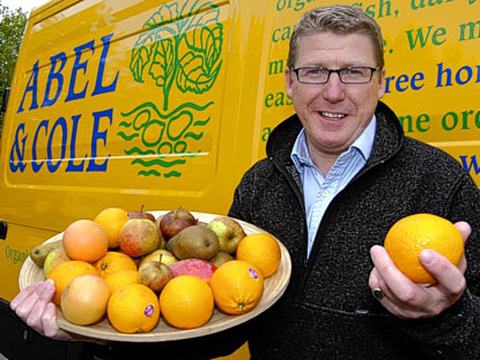 When the Ecologist meets Abel at the company's Wimbledon headquarters, he is every inch the CEO of a thriving business. It is a long time since he knocked on doors hawking potatoes, 'some posh t**t turning up on the doorstep and cracking jokes.' Nonetheless, his enthusiasm for food, and making money from selling it, is undiluted. Reclining with a cup of what can only be Fairtrade coffee in his hand he admits that the idea to sell organic produce wasn't his. 'It was very straightforward,' he says. 'There was nothing clever about it, nothing strategic. I didn't sit down one day and say there is going to be an organic revolution and I am going to spearhead it. But I really didn't like the way all the greengrocers were closing down. I really didn't like the sudden and huge emergence of these massive supermarkets. I particularly didn't like them because they always managed to undercut me, and I knew what it was like to trade against them.'
In 1989, an organic farmer, Bernard Gauvier, approached Abel and asked him if he would be interested in selling organic potatoes. Abel's reaction: aren't all potatoes organic? 'He said well, go and ask the farmers what they are spraying them with. I went down to the farms and asked to see the sprays and they very proudly opened up their chemical sheds.' Chastened, and ever the businessman on the make, Abel decided to test the market for pesticide and herbicide-free potatoes. 'I said do you want these potatoes smothered in chemicals or do you want these ones which are organically grown, no herbicides, no pesticides, totally organic just as nature intended, and everyone went for the organic ones,' he says. 'And nobody asked me how much!'
Suddenly, he was making a decent margin on the potatoes he was selling rather than just breaking even as before. He followed up with free-range eggs. Two kinds of customers emerged, Abel says - the kind that wanted a big bag of cheap spuds, and the kind who 'cared about what they ate' and bought organic. The latter started asking if Abel & Cole could sell them any other organic produce. Abel asked Bernard, and he asked his neighbour Bert, who had started producing pesticide-free vegetables largely because he objected to the grip that chemical giant ICI had on the industry.

'So he brought me a tiny box, and it had a lettuce and a cucumber in it and a few things he had picked out of his vegetable garden. Maybe 40 or 50 customers ended up buying these things, and he used to drive them up twice a week on his pickup truck from Devon,' Abel remembers. The business bloomed; aided, he claims, by a strategy of only employing attractive van drivers kitted out in tight-fitting shorts. Even when the vegetables he sold were below par, Aussie Todd's legs were enough to keep the orders coming in. But it was still a long time before the business started pulling in serious money.
In 1999, Abel re-sat - and passed - the bar as the company teetered on the verge of bankruptcy and Paul Cole left to start his own wholesale business. On the recommendation of his father-in-law, he approached the green business guru Alan Heeks. Heeks asked if Abel would give his daughter Ella work experience. She would go on to become managing director of Abel and Cole. Where Abel had allowed the business to grow organically both literally and figuratively, Heeks lent structure and shape to its strategy. 'This girl Ella had a first in PPE from Oxford and the first thing I said to her was "what the bloody hell are you doing here?"' he says. 'And it was this grotty old warehouse in Brixton, full of manky old vegetables, and she just said I'd like to help you grow. I said, great, start today.'
Together they oversaw the growth of the business from barely breaking even on its £1m revenue in 1999, to a 10 percent profit on £33m of sales in 2007. 10 people worked at Abel & Cole by the end of the 90s, most of who were as happy with a spliff on a Sunday night as a bonus or pension scheme. A decade later, the company had more than 350 employees. The upshot of this rapid growth, says Abel, was that he was knackered. 'Even though we were being profitable, I couldn't draw anything out,' he says. 'I was living in rented accommodation, I had no savings, and I was earning less than you, but was running a multimillion pound business. I was stressed out. So I was sitting with a mate in the pub, and I said I couldn't do it any more.'
Together, the pair started working out his exit strategy. They decided that the best thing was for Abel to approach a private equity firm, and by the end of 2007 a deal had been arranged with the UK's Phoenix Equity Partners taking a stake in Abel & Cole which valued the firm at a reported £40m. Keith Abel stepped down from management, and went to work on his tennis. Then the financial crisis hit.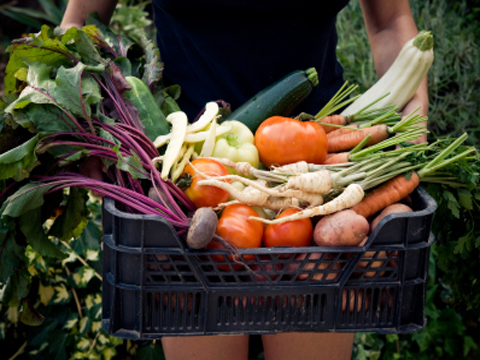 The strategy put in place by Phoenix envisaged rapid, aggressive expansion of the company by increasing its customer base and increasing the value of their orders. Instead, as the credit crunch bit, it found itself facing increasingly frugal customers, swollen staff numbers and high fixed overheads. In 2009 Abel & Cole lost £3.5m, wiping out the cash pile it had built up over the previous few years. Meanwhile, because Phoenix had used finance to pay for its stake in the company, it was loaded with debt. By the end of the year, Phoenix's main creditors, Lloyds Banking Group, had effectively converted that debt into an equity stake in the firm. In 2010, a third party approached Abel and asked him whether he would be interested in returning to management as CEO. He was, he says, 'doing large amounts of f**k all' at the time but remained unsure as to whether he was ready to go back to the stress of running the firm. He was asked what he would do to turn the business around.
'I said I'd take it right back to basics: we are brilliant at fruit and veg but we have got very confused at what our message is, we aren't doing as good a job as we could do on what 75 per cent of what our customers are buying, and I'd concentrate on that. I'd get rid of layers of bureaucracy. They said great, that's exactly what we want you to do then, and you have complete free rein, there will be very little debt, and they offered me a great package.' A year on, Abel & Cole is in robust health, with its CEO forecasting revenues of £36m and a profit of around £3.6m for 2011. Now, he says, by concentrating on the basics - a fair deal for suppliers, looking after the staff, customers, and local communities - he intends to push the company on to new heights, perhaps topping £50m in revenues in the next few years.
Chances are that Lloyds will eventually want to make good on its stake in the company over the next two years but Abel is certain that he will be around for some time to come. And as long as he is, despite the firm's reputation as a mainstay of the organic middle-class lifestyle, he will continue to approach it in more or less the same way as that potato salesman in Wakefield. 'I like to think of it as good old fashioned fruit and veg from local producers, a provenance that you know, not air freighted from miles away,' he says. 'And it tastes fantastic.'
Find out more: www.abelandcole.co.uk
 
READ MORE...
GREEN LIVING
Green Business: People Tree
People Tree's Safia Minney has come through crises, both financial and natural, buoyed up by the belief that Fairtrade should top the fashion agenda
GREEN LIVING
Green Business: Innocent
What does Coca Cola's 58 per cent share in one of the UK's most distinctive and ethical brands mean for the future of the company? If you believe Innocent Drinks founder, Richard Reed, nothing but good. Peter Salisbury went to find out more
GREEN LIVING
Green Business: Sedlescombe Organic Vineyard
From biodynamic farming methods to persuading people to give English wine another try, the Sedlescombe Organic Vineyard's Roy Cook is transforming the British wine industry
GREEN LIVING
Green Business: Divine
Divine chocolate has blazed an ethical trail with its pioneering business model and Fairtrade principles. But does ethical also mean green? Divine MD Sophi Tranchell says that for her company, it does
GREEN LIVING
Green Business: Good Energy
In the latest in his exclusive series examining ethical businesses, Peter Salisbury reports on the rise of the leading eco-electricity supplier - and hears how it all started with a cocktail