Football can be an expensive hobby, both for you and the environment. Each summer sees the arrival of a new strip with last year's polyester shirts being relegated to the landfill site. But following your team doesn't have to be unsustainable and there are a number of ways you can show your colours while staying green. And it's not just grass-roots businesses that are doing it. Launched last summer in South Africa, sports giant Nike's Considered Design range uses recycled plastic bottles – each of which would take an estimated 500 years to decompose in landfill - to make polyester football shirts. Each shirt contains around eight bottles and the company has recycled a staggering 13 million bottles so far. The recycled shirts, £50, also use 30 per cent less energy than conventional polyester. Teams who have adopted the new fabric kits include Arsenal, Paris Saint-Germain, Manchester United, Juventus, Athletico Madrid, Barcelona, Inter Milan and Celtic. The Considered Design range also includes football boots, trainers and jackets, all made from recycled polyester, nylon and canvas.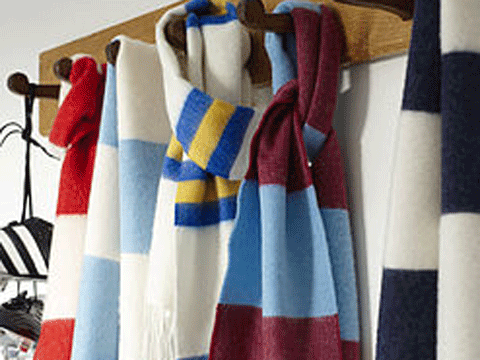 Another brand working hard to make football clothing a bit greener is Saville Rogue, who provide an alternative to  the cheap synthetic scarves usually seen on the terraces. Instead of acrylic, Saville Rogue use cashmere to make their scarves, £38.95, which come in a range of club and country colours and are produced in one of Scotland's oldest cashmere mills.
If you fancy a bit of keepy uppy practice, get to grips with Ethletics' Greenstar Eco football, £20.41. Unlike conventional footballs; many of which have uncertain ethical and environmental credentials, the eco footballs are FSC and Fairtrade certified so you can go for a kick-about safe in the knowledge that your game hasn't contributed to misery in the third world, child labour and global warming.
READ MORE...
HOW TO MAKE A DIFFERENCE
CASE STUDY: greening a football stadium
With its grass roof, solar panels and low-energy lighting, the beautiful game now has its own beautiful eco home. David Craik meets the man making it happen
COMMENT
Football's cold war
Football used to be a sport. A great one. Exciting, all-consuming – heck, we played, talked, lived and breathed it. Now it's another commodity, traded among the super-rich. And, laments Jon Hughes, the Yanks have bought 'my' club
GREEN LIVING
A good sport
Say no to exploitation and eco crime with French sportswear company Veja's ultra cool, ultra green trainers
GREEN LIVING
Top 10…Organic Denim
Cotton accounts for 25 percent of the world's agrochemical use, so isn't it time you switched to organic denim? Ruth Styles rounds up some of the best green jeans around
GREEN LIVING
Top 10… Ethical Labels to Love
Once seen as a style-free zone, green fashion is officially cool. Ruth Styles tries on 10 fashion-fabulous brands for size