From belts whipped up using old firehose to bags crafted from discarded coffee sacks, the UK's eco designers are dreaming up ever more creative ways to turn waste into desirable fashion. But despite the flood of tractor tyre shoes, paper clip earrings and cassette player clutches, one area where few have dared to go is the underwear drawer. When it comes to upcycling, it seems, lingerie is truly the final frontier. That, however, could all be about to change if East London sisters, Sophie Holloway and Alice Holloway-Smith, get their way.
The first time I meet the Holloway sisters is at a Halloween-themed burlesque ball at Stoke Park in Buckinghamshire. In the dressing up room, between racks of vintage silks and quirky pillbox hats, two girls are enthusiastically expounding the merits of nipple tassles and, er, shaking things up a bit. I stop and look. Stare at a pile of jewel-bright, crystal adorned, heart-shaped pasties ('pronounced paste-ees,' insists Sophie. 'We don't want anyone to think they're sticking something made of pastry on their nipples') and conclude that actually, pasties - paste-ees - might not be quite such a crazy idea after all. After all, the pieces I'm admiring are so beautiful they practically qualify as jewellery in their own right and, what's more, are a million miles away from the tacky Ann Summers cliché. But the big surprise was the materials used to make the pasties. Rather than conventional silks and satins, the nipple adornments in front of me were made from vintage lace, upcycled silk offcuts and most surprisingly of all, old car seats.
'[The environment] is part of our whole brand ethos; not because we're greenies but because that's the way we were brought up,' explains Sophie. 'Our mum was a bit of an eco warrior (she was a trustee of Traidcraft) so it's just normal for us and it's what we've always wanted to do. After all, why wouldn't you recycle or care about the environment?' 'So many people are just oblivious [about environmental issues],' Alice chimes in. 'It's so much more fulfilling when we know that what we do isn't damaging anything.'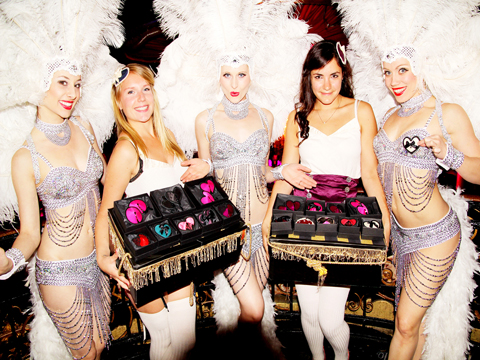 Two weeks later and we're talking at the sister's tiny studio at the Cockpit Arts Centre in Holborn. Beads, shimmering bits of silk and tiny crystals jostle for space between recycled heart-shaped boxes, two sewing machines and an ironing board, while a pile of finished pasties – made for a new client in Spain – wait to be dispatched. We've been talking about Holloway-Smith Noir's eco credentials for the last 10 minutes but the sisters are at pains to point out that the label doesn't have a purely ethical USP. Then again, neither is it just about burlesque-inspired kinkiness – rather, Holloway-Smith Noir is about bringing the two together organically to create something that works on both an environmental and an aesthetic level.

Of course, it's partly about sex too but as the sisters point out, sex as they see it is less about objectifying women and more about dressing up to feel good. 'Our ESP is burlesque, vintage glamour,' says Alice. 'People buy into burlesque because it's new but also old, but then at the same time, we've come so far since the heyday of burlesque. It's not about 'look at my body'; it's about the tease so it's intimate and translates better to the bedroom. Both men and women can buy into it.' I ask whether they think the business has legs. After all, how big can the market for eco-friendly nipple accessories really be? 'It's still niche,' admits Alice, 'but people really like pretty things and it's nice to have something fun and playful. You can't always wear a bra either, so in that case, it's nice to have something like this underneath. It's about incorporating it into the experience – all of it is about making the wearer feel really special.'
You're probably wondering how the car seats fit in and quite how a bit of old Ford Cortina is supposed to make you feel great in the boudoir. The answer is the backs of the nipple tassles, which are crafted from ultra-soft recycled car seat leather. It's possibly the quirkiest element of a quirky business but one of the cleverest too, and along with finding a new use for shreds of leftover silk, one of the greenest. 'We practise what we preach,' says Sophie. 'Ethics are important to us. Quality and ethics aren't our USP - we do it because it's the right thing to do.' And if you're in the market for a pair of eco-friendly nipple tassles (or from February, a pair of eco-luxe silk knickers) and you happen across Sophie and Alice at one of the capital's burlesque nights, then you could do worse than choose Holloway-Smith Noir. Not only have they managed to find an entirely novel use for old car seats, they've found a beautiful one to boot. And it's a million times more stylish - and greener - than heading to Ann Summers.
For more information and stockists, see www.hollowaysmithnoir.com. If you fancy meeting the girls and finding out a bit more about what they do, head to the Cockpit Arts Open Studio days on the 25th, 26th and 27th November. For more information, see www.cockpitarts.com