With the weather ricocheting between summer sunshine and winter rain, trans-seasonal dressing is a real sartorial poser. Slip on your winter coat and you could be scorching by midday but go without and you risk a chilly afternoon. What's more, with a wealth of new trends arriving, your winter wardrobe can start to look tired. So how do you bridge the gap without splashing out on a slew of new things? 'I think there are three things that are important when shopping for clothes,' says ethical label Seasalt Cornwall's Rosie Stevenson. 'The impact the production of the textiles has had on the environment, the ethical production of the garments and the support the clothing company gives to local communities and manufacturers. Seasalt, for instance, aims to have a minimal environmental impact by creating high quality, long lasting garments.' Still not sure how to solve the spring style dilemma? We've got the answers you're looking for.
Choose your trends wisely
From tribal to sporty, the S/S12 shows produced a plethora of hot, new trends but not all of them will be around come autumn. Pastels, as seen at Designers Remix and Acne, will still be going strong in September, so make the most of the icecream colours hitting the shops right now. Not only will they update your wardrobe today, they'll still look fresh at Christmas. Alternatively, invest in perennial favourites such as nautical or whites that you can wear year after year. 'Living in Cornwall and working for Seasalt my key S/S12 trend would have to be gorgeous nautical stripes,' says Stevenson. 'A distinctly coastal look of stripes, versatile plain pieces and imaginative floral prints give you a fresh look for those long hot summer days.'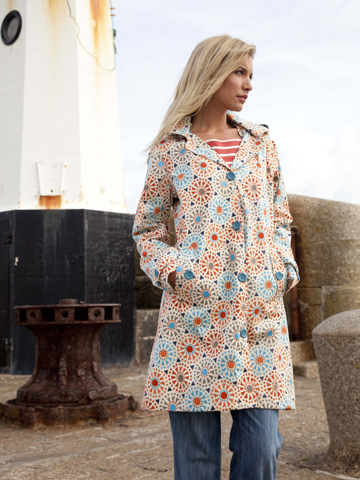 Shape up
This season's key shapes include everything from pencil skirts to palazzo pants, so there really is something for everyone. But as with trends, not every shape has mileage. Enter the 7/8th – a trouser shape that works now, in summer and for winter. Exposing the barest sliver of ankle, they let you bare a little (fake-tanned) skin while still keeping you warm. What's more, the shape suits just about everyone and will still be going strong come autumn. People Tree's fabulous cropped chinos, £50, come in neutral beige, go with everything and are made from 100 per cent organic cotton.
Add print
The easiest way to brighten up for spring is to swap your black coat for a brightly patterned mac. Print was huge on the S/S catwalks, with everything from bright tropical prints to graphic florals making an appearance. Seasalt Cornwall has a gorgeously practical mac (left) made from 'Tin Cloth' (water resistant organic cotton), £99.95, which comes in a choice of uplifting bright patterns. Wear it now to tackle spring showers and later on for summer deluges and festivals. Also worth checking out is FAIR+TRUE's fabulous African print cotton top, £75. Along with nailing the print trend, it also has a peplum so gives you two trends for the price of one.


Get creative
Updating your spring wardrobe doesn't necessarily mean having to buy something: putting existing pieces together in different combinations can have just as powerful an effect as something new. Try giving new life to a simple white t-shirt and jeans combination with a homemade tribal necklace or turn up a pair of unloved bright or printed trousers to get spring's essential cropped silhouette.
Freshen up your footwear
Sporty details are key to S/S12, with footwear leading the way. TOMS has some brilliant flat espadrilles in nautical red and blue stripes, £37, that are perfect for summer holidays but if you're looking for something a little sturdier, check out Cushe's Shucoon range, (above) £50. 'All of Cushe's shoes are designed with comfort, wellness and the Cushe lifestyle in mind, from the sculpted footbeds which support the foot, to the use of memory foam and Eco Cell technology which increase comfort and fit,' says Cush's Global Marketing Manager, Ciaran Henderson. For brights, head to vegan brand Melissa, where you'll find everything from flats to skyscraper heels in a rainbow of colours.
 
READ MORE...
GREEN LIVING
Cruel or green: is real fur the ultimate sustainable material?
Renewable, natural and long-lasting, some claim that it's time for us to take another look at fur - and maybe even embrace it. But as Ruth Stokes found out, not everyone is convinced
GREEN LIVING
Ethical shoes: what's out there for vegans and vegetarians?
Leather is no longer the only option out there for footwear but do the eco credentials of leather-free alternatives stand up to scrutiny?
GREEN LIVING
One for One: how TOMS started a fashion revolution
Instead of 'buy one, get one free', as TOMS founder Blake Mycoskie told Ruth Styles, it's all about 'buy one, give one away' starting with shoes and glasses
GREEN LIVING
Fashion special: And this season's colour is… green
From local manufacturing to natural textiles, times are changing in the fashion industry. What's more, the new look eco fashion isn't just green – it's seriously cool as well. Ruth Styles reports from London and Copenhagen
GREEN LIVING
Made in Britain: why UK craftsmanship is good news for the environment
With high street giant Topshop bringing manufacturing back to the UK and Labour leader Ed Milliband calling for a return to 'Made in Britain', could 2012 be the year that fashion came home?