It started as a roadside tea shack in 1988 but today Loch Fyne Oysters is a cluster of businesses supplying seafood to British hotels and airlines as well as 42 restaurants, and boasts an online retail site that sends oysters as far away as Hong Kong. The original Loch Fyne Oyster Bar, with its simple wood interior and front counter carved in the shape of a Norse long boat with a fancifully carved sea dragon on the prow to bring good luck, sits where it always has – just off the main road leading from Glasgow towards Inveraray in the Scottish Highlands. In the 25 years since it began selling oysters, Loch Fyne has gained a reputation for delivering quality and sustainably sourced seafood – a reminder that good food needn't cost the earth.
I'm sitting with Virginia Sumsion whose uncle Johnny Noble was one of two original co-founders of Loch Fyne Oysters and who has been part of the family run business for 13 years. Virginia is an oyster neophyte turned evangelical. 'Way back when, I didn't know a thing about oysters, not even how to open one,' she says making a quick twist with a specially designed French 'huitre' knife inserted into the small end of the oyster, followed by a sharp cut to the muscle that joins it to the shell. This is first part of my lesson in how to correctly open an oyster. Once the muscle has been cut from the shell, it should be transferred straight into the mouth. Preferably followed by a glug of dry Muscadet. I do as I'm told.
Lunch starts with half a dozen raw oysters, followed by another half dozen baked oysters with parmesan and topped off with hot smoked salmon, which I learn later during the tour of the smokehouse, gets its moist texture from the way it's cured for 17 hours with salt and brown sugar, then cold smoked for 16 hours, then hot smoked for another four hours. The flavour is tinged with a hint of whisky from oak barrel shavings that fuel the fires.
Oysters are reputed to be an aphrodisiac, thanks to their high levels of zinc. But if that doesn't appeal, there's also the fact that oysters have near-zero cholesterol, plenty of protein and are packed with minerals such as iron. 'There has been a sea change in the public's perception of fish as sustainable,' Sumsion quips. By that she means, just like eggs, seafood was once bought without a second thought to how sustainably it was produced. Now you'd be hard pressed to not find yourself with anything other than free-range in your food basket. Thanks to the many campaigns highlighting the perilous state of our sea life, seafood is going through the same process. And with the current backlash against meat as a carbon-heavy and disease-inducing food, the idea that we should find alternatives has added more weight to the idea of a home-grown, sustainably-sourced fish-based diet. Enter Loch Fyne Oysters.
Loch Fyne is the longest sea loch in Scotland, 50 miles inland from the coast, and with some of the deepest inland waters in Europe. This depth and breadth, along with the help of the Gulf Stream, ensures a good flow of water from the sea providing a good source of plankton to feed the oysters. In 1978, Johnny Noble, heir to the Ardkinglas Estate and his friend Andy Lane, made use of the low-tide rights the Noble family had along the shoreline of Loch Fyne to do something revolutionary: set up an oyster farm. Back then, the oyster industry was only just starting to recover from overfishing and industrial pollution, and the entrepreneurial duo learned their first lesson quickly when the entire first batch of farmed oysters died – the result, as they discovered later, of anti-foulant chemicals that have since been banned. The lesson was clear: oysters are a good indicator of how clean water is. As a result, Noble and Lane proceeded to set up a business that has at its heart a commitment to maintaining the environmental sustainability of the loch and its small but tight-knit community.
This whole area is still quite remote, with access constrained by mountainous two-lane roads leading in from Glasgow which are prone to landslides as well as the midge infestation from June to September, the scourge of the Scottish summer, which drives away would-be tourists. As Loch Fyne Oysters has a staff of 130, some commuting in from as far as 40 miles away, there is a company drive, Sumsion says, to provide better housing and more childcare centres in the area. Indeed, next door to the Oyster Bar is community regeneration hub called 'Here We Are' aimed at strengthening local initiatives.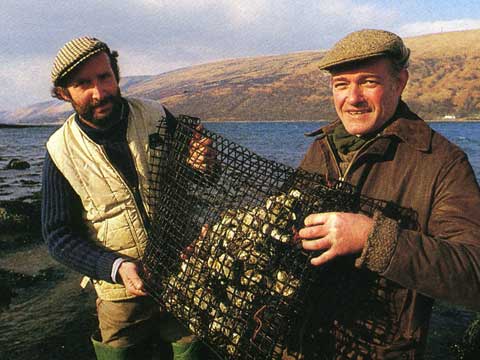 When Johnny Noble died in 2003 one of his wishes was that the company go into staff ownership, which it did successfully for almost 10 years until coming into new ownership this year by Scottish Seafood Investments (SSI). While there has been no change to the management and all staff were retained, Loch Fyne has received needed investment to introduce new methods of sustainable aquaculture.
When I visit the oyster farm, the tide is out, making the 'rack and bag' beds visible and I am taken around by David Attwood, Loch Fyne Oysters' Aquaculture Director, who has been with Loch Fyne for 15 years. These are Pacific Oysters and they take three to five years to grow to maturity. Unlike other 'farmed' seafood, oyster farms are environmentally friendly – with no artificial input of feed or anything else at any stage. Loch Fyne is one of 12 oyster farms in Scotland, producing 500,000 oysters a year out of a total three million in the country as a whole. 'Oysters are extremely picky about which plankton they feed on,' Attwood tells me. 'They filter as much water as a swimming pool in order to find the right plankton to feed on.' Loch Fyne is on the brink of a new chapter with new owners SSI providing the cash to trial a new sort of aquaculture – the Integrated Multi Trophic Aquaculture (IMTA) system – initiated in Canada. The idea is to create a polyculture where marine life is mutually dependent on each other – including salmon, oysters, mussels, sea urchin and seaweed. They are currently applying for planning permission to begin IMTA and Attwood says putting it all together will be, 'the next five years of my life'.
The oyster spat all come from a hatchery in Cumbria which doubles as a RSPB bird sanctuary in Walney Bay. Attwood is careful to point that none of the oyster spat comes from France, 'where some oyster farms have gotten too big' leading to diseases such as oyster herpes virus, which reputedly killed off half the country's oyster population last year. After harvesting, they go through a process of repurification, known as depuration, in which they are put in small tanks in which seawater is recirculated and treated with UV during 42 hours to kill off any bacteria. They are extremely conscious of maintaining their reputation and avoiding any Fat Duck-type incident (when 500 diners in the famous Berkshire restaurant fell ill from Novovirus-infected oysters in 2009). Attwood says that not only do they test for E-coli as well as toxic phytoplankton (required by law), they have pioneered a test for Novovirus, even though it is not required. While they were instrumental in developing the certification standards for organic shellfish with the Soil Association, they have not been certified. 'The cost was prohibitive and it confused consumers – it's just another label. Oysters don't require any artificial feed or any inputs so why should we have to certify ourselves,' asks Attwood.
Back at Loch Fyne Oyster Bar, I meet John Meaney, another committed Loch Fyne employee who, over the last six years, has transformed his role as site manager into one of sustainability guru. Not only has he taken on the company's environmental ethos with zeal, he has added his own ideas on how to futureproof it. His infectious smile has surely served him well on the pep talks he gives for staff on 'why we want to be green and why we need to be green'.  Being green, for Loch Fyne, has meant an overhauling the operations and creating targets for water, electricity, diesel and waste to landfill reduction. 'We are looking at zero waste Scotland, by which the aim is to reduce waste by 75 per cent by 2025,' says Meaney. 'But we aim to achieve this way before that date.' 
Meaney says short-term plans include getting ISO 14001 certification, installing a biomass boiler for the restaurant and smokehouse, clocking carbon with the Carbon Trust, and installing one of the area's few electric car charging points. Then there is the interesting question of how best to recycle oyster shells and fish skins. Who knows? Perhaps one day, passion and innovation could see Loch Fyne Oysters become the breeding ground for fish skin fabric and oyster shell art. Stranger things have happened.
For more information about Loch Fyne Oysters, its shellfish and its eco credentials, see www.lochfyne.com
Oysters: need to know
• Oysters are fat free and full of protein
• They are low in cholesterol and rich in iodine, calcium and copper
• Oysters contain zinc, which is known to improve male fertility
• Oysters are best eaten during the winter months as they are plumper and juicier after feeding throughout the summer
• Aphrodite, the Greek Goddess of love, sprang forth from the sea on an oyster shell