Nobody wants to look at jewellery and feel pangs of guilt but there's no denying that the industry has a poor record when it comes to ethics with everything from blood diamonds to dirty gold and environmental destruction on the charge sheet. What's more, according to Ethical Metalsmiths, although metal mining only employs 0.9 per cent of the global workforce, it consumes 10 per cent of the world's energy. 'Mining is the most environmentally damaging industry in the world, and jewellery is 100 per cent dependent on mined products,' says Greg Valerio, co-founder of Fair Jewellery Action (FJA) and owner of CRED Jewellery. But does that mean you have to give up bijoux entirely? Well, no. But you do need to know what to look out for.
Gold
Jewellery, according to the Fairtrade Foundation, accounts for around 50 per cent of global demand for gold. But there's a plus side to its popularity and the yellow metal has become the first jewellery component to get Fairtrade certification. Figures released by the Fairtrade Foundation show that artisan and small-scale (ASM) miners sometimes receive as little as 70 per cent of the internationally agreed price of gold. Along with paying fair prices to workers, in order to be certified, mines must minimise the use of chemicals such as mercury and cyanide to extract the gold from ore. Along with low-chemical gold, there is also Fairtrade and Fairmined Ecological Gold, launched in partnership with Oro Verde in Columbia, which is mined using no chemicals at all. 'We are working really hard to secure opportunities with high street jewellers but if they don't have it, ask them to get in touch with us,' comments the Fairtrade Foundation's Gemma Cartwright. 'The ultimate goal is to see every aspect of the jewellery supply chain Fairtrade certified so at least consumers and the industry have a choice,' adds Valerio. 
Diamonds
One of the biggest controversies of the last 20 years, conflict diamonds have been linked to civil wars across the world, most famously in Sierra Leone.  What's more, according to Global Witness, blood diamonds have also been used to fund activities by terror groups such as al-Qaeda. In 2002 the Kimberley Process (KP) began in response to the problem of blood diamonds. A global initiative set up to try and eliminate conflict diamonds; it introduced a certification scheme to certify that shipments of rough diamonds that are 'conflict free'. According to the Kimberley Process, it is now thought that conflict diamonds now represent as little as one per cent of the international diamond trade compared to 15 per cent in the 1990s. But in December 2011, Global Witness, which was fundamental in establishing the Kimberley Process, walked out. The catalyst for their departure was the decision to endorse exports from the Marange diamond fields of Zimbabwe, which have been associated with repeated violence from the army and security forces. 'They never envisaged that a government would turn the guns on its own people over diamonds as has happened in Zimbabwe,' says Valerio. He suggests asking about the traceability from mine to market when buying diamonds and recommends suppliers Finesse and Open Source Minerals.

Precious stones
Of course jewellery is about more than diamonds and gold but other materials are even harder to trace. According to Valerio, this is likely to be because they are less valuable. 'In so many degrees diamonds are more 'sexy' and much more prone to publicity than gems,' says Mike Angenent, founder of the Jeweltree Foundation which works to support ASM miners. 'Nevertheless, there are a lot of gemstone projects out there as well such as Ruby Fair, Columbia Gem House, Fair Gems Process and Brazil Gems.' Vivien Johnston, founder of Glasgow based ethical jeweller Fifi Bijoux, knows the difficulties of tracing supply chains. When she started her business, the gemstone selection was very limited as she only uses stones she knows the origins of. But now she now says she can use almost all types of precious stone. 'That's the beauty of having such involvement with your suppliers; you build a relationship,' she says.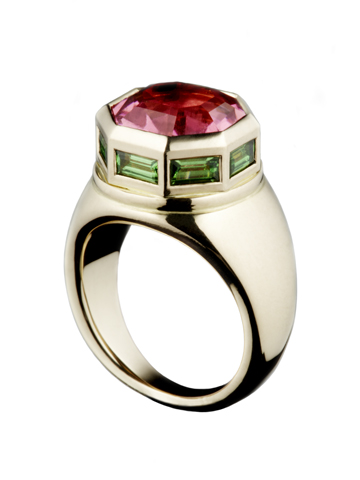 Reloving your jewellery
Reusing materials is another option for ethical jewellery fans but most precious metals are recycled anyway. 'We used to call it scrapping but scrapping isn't quite as sexy as recycling,' says Valerio. 'You could argue that despite the fact that the jewellery trade has had the highest recycling rate of any industry in the world, it's had no impact on the human rights and environment issues.' Greener still is to build on what you already have. Places such as London restaurant and arts space, Canvas and Cream, offer jewellery upcycling workshops where you can bring along a piece of unloved jewellery and make it something exciting again with the help of experts. The Radical Jewellery Makeover (RJM) organised by Ethical Metalsmiths is a 'community mining' event which at the moment is mainly based in America and Australia. Members of the public 'mine' their homes for unwanted jewellery and volunteer jewellers and metalsmiths then transform it into new pieces.
Increasing transparency
Ultimately, the most important thing to consider is the supply chain. In March 2012 the Responsible Jewellery Council (RJC) launched its Chain-of-Custody (CoC) Standard, although it's worth noting that it's a voluntary programme. For Valerio, the RJC is not asking enough. 'All they're really asking their members to do is be legally compliant, which is no ethical progress at all; they're just doing what they're supposed to do by law.' Johnston reckons she has found an alternative approach by trying to source from the ground up. 'That's not how the rest of the industry works though,' she qualifies. Hattie Rickards of Hattie Rickards Jewellery [ring pictured above right] is aiming to visit the Columbian mine where her Fairtrade gold comes from later this year, and will be making a video for her customers. 'I believe it is the responsibility of both the designer and the customer to demand greater ethical visibility and responsibility,' she explains.
Early in the supply chain, the Initiative for Responsible Mining (IRMA) is working to establish an independent system to verify environmental and social standards by 2014. Johnston is chairing an ethics committee for the National Association of Goldsmiths and the British Jewellers Association that aims to issue recommendations in the Autumn. 'Ethical practice remains high on the agenda,' she says.  Still concerned? The best news for us in the UK is that, according to Valerio, we are in the best place to buy ethical jewellery in the world.
READ MORE...
GREEN LIVING
Cruel or eco-friendly: is fur the ultimate sustainable material?
Renewable, natural and long-lasting, some claim that it's time for us to take another look at real fur - or maybe even embrace it. But as Ruth Stokes found out, not everyone is convinced
GREEN LIVING
Ethical shoes: what's out there for vegans and vegetarians?
Leather is no longer the only option out there for footwear but do the eco credentials of leather-free alternatives stand up to scrutiny?
GREEN LIVING
The Ecologist meets…Katherine Hamnett
It's 27 years since fashion's enfant terrible made headlines by arriving at Downing Street in a protest t-shirt but, as she tells Ruth Styles, Katharine Hamnett is as ready to stand up for the planet as ever
GREEN LIVING
How to… make tribal jewellery
You don't need to go to Africa to nail this season's tribal trend. Priyanka Mogul explains how to wear it the eco-friendly way
GREEN LIVING
Fashion special: And this season's colour is… green
From local manufacturing to natural textiles, times are changing in the fashion industry. What's more, the new look eco fashion isn't just green – it's seriously cool as well. Ruth Styles reports from London and Copenhagen