'For centuries, plants have been the basic skin care ingredients that can be used right across the board,' says Dee Aktinson, Medical Herbalist and Medical Director of Napiers Herbal Dispensaries and Clinics. 'Women have been making their own skin care remedies for centuries - way before you could go to Boots and buy those products that are often filled with chemicals.' The art of foraging for your cosmetic kit is now largely forgotten, with the ease, convenience and efficacy of commercial products trumping ethical concerns. But that doesn't mean those skills can't be relearnt, with plenty of beautifying herbs, berries and nuts to be found in your local woodland. Not only are foraged remedies free from chemical nasties, they're ultra cheap to boot. And if you can't find the right ingredient outside? Head to your local health food shop for organic base and essential oils. Here's what to look out for

Shampoo
According to Shashi Ioannides from Living Naturally Soapnuts, soapnuts are the natural alternative to shampoo. 'Soapnuts are completely chemical free and hypoallergenic,' she says. 'They're great for anyone who's having trouble with their skin or scalp, or anyone with skin allergies like eczema. We are overwhelmed with toxins in our environment and its nice to know that you have a choice to minimise toxins in your immediate environment by using soapnuts.' What's more, says Ioannides, soapnuts have been used in India to wash hair and clothes for centuries. This began when locals realised that the soapnut tree remained untouched by insects because of the saponin contained within it. 'The saponin can actually break down the exoskeleton of some bugs like lice and fleas,' explains Ioannides. 'In fact I spray soapnut liquid onto my son's hair during lice breakouts at school so he doesn't get them. Works everytime.'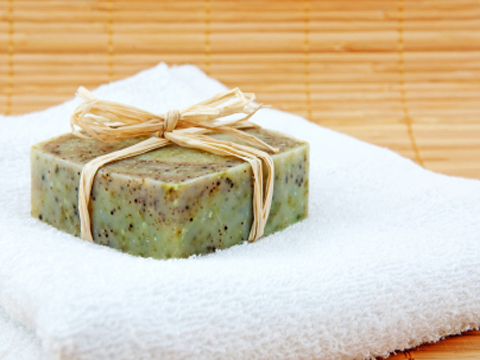 If you can't get your hands on soapnuts, there's a wealth of natural finds that can make a real difference to your hair. One of the best is the humble stinging nettle, which is great for giving the hair more shine and reducing dryness in the process. 'Nettles contain protein, vitamin C and Bs, iron, potassium and more and are therefore a wonderful tonic for the whole body,' says Rachel Lambert, owner of WildWalks-Southwest.co.uk. 'I've taught children and adults how to make nettle shampoo. It's simple to make and is great for all the family. I've even had reports that it works well on the dog too!'

Skincare
'Almond oil and beeswax can both be used in making your own skin products, but to me the really exciting thing is the plants that can be used,' says Atkinson. 'It's really simple things like rose. For example, rose petals have been used for centuries for skincare. It has great rejuvenating properties and is excellent for tissue damage. Try making rosewater by soaking rose petals in water overnight, and then using that water to rinse your face. Make it as if you were making a tea: it extracts the active ingredients from the petals and is wonderful.'

Another recipe recommended by Atkinson is contains yarrow and ladies mantle: both commonly found in British hedgerows. 'Ladies mantle helps the skin retain moisture and if you make a tea, (pick the leaves, crush them, put them in a teapot with boiling water) and rinse your face with it, it will really add moisture to your face.' Lambert recommends common chickweed (Stellaria media) for skin products and seaweeds - Nori, Laver or lava - to nourish the skin.


Troubleshooters
'Something that makes a great facemask is a bentonite clay mask using an infusion with various herbs like rose, chamomile, and yarrow,' advises Atkinson. 'You can use the liquid to mix the clay into a paste then put it on your skin and you've got a lovely herbal face pack.' If that doesn't sort out tired skin, then Atkinson has another trick up her sleeve. 'Another thing you can do is collect a mixture of herbs, like yarrow, wood bethany and plantain, and pop them into blender,' she explains. 'Put some of the green mush at you get onto a damp tea towel or some muslin, lie down and pop it onto your face. The heat of your face and putting the herbs on top acts almost like food.'

Cosmetics
'Natural cosmetics are great because they have a lot of really powerful and healing ingredients,' says Jessica Blades, natural beauty expert, make-up artist and founder of Blades Natural Beauty. 'The best part about using them for health and beauty is that they do their job, but they also protect, heal and nourish the skin. A lot of other ingredients - the kind you find in products you buy at drug stores - are good at doing one thing only. Plant based cosmetics are good at being well rounded: they're good at doing their job as well as being calming and protecting'

Cosmetics can be easily cooked up in your kitchen. 'A simple lip balm can be made from three all-natural ingredients. Combine equal parts of cocoa butter, beeswax, and sweet almond oil,' suggests Emmy Gabriel of NaturalBeautyWorkshop.com and FromNatureWithLove.com. 'Melt the ingredients together using a double boiler or a microwave, then pour the mixture into small containers. Allow the lip balm to cool completely before using it. To make your lip balm more interesting, add a few drops of peppermint essential oil to the mixture after it is melted.'
READ MORE...
GREEN LIVING
Review: the Relax and Rejuvenate uplifting facial
If your visage has lost its va va voom, some TLC could be required. Luckily Covent Garden's Relax Spa has just the thing for skin-conscious greenies
GREEN LIVING
Eco beauty heroes 2011
From the brands making strides towards reducing packaging to the nail polishes made without toxins, Green Living Editor Ruth Styles salutes the beauty brands who have gone further for the planet this year

GREEN LIVING
Wild at heart: getting to grips with primal fitness
Fed up of slaving in the gym? Wild Fitness' emphasis on natural movement of the sort our ancestors would have used could be just what you need. Get in touch with your inner caveman
GREEN LIVING


Special report

How safe is cosmetic surgery?
In the wake of the PIP implant scandal, the Ecologist examines the cosmetic surgery industry and asks what impact it is having on the health of patients and the environment
GREEN LIVING
How safe is your bubble bath?
Thought bubble bath was basically liquid soap? Wrong. Not only is it completely different, it contains a hefty dose of dodgy chemicals to boot. Ruth Styles has more