The UK's shale gas boom is spreading. After more than a year of exploratory drilling in Lancashire, new sites are now being established in the south-east of England.
Unlike the road protests of the nineties where the car was king, this time the stockbroker-belt faces the despoiling of precious countryside and potentially, underground water supplies.
Tom Leveridge, Senior Energy Campaigner for the Campaign to Protect Rural England (CPRE) said: 'We're very concerned. It's [fracking's] potential impact on the countryside remains unclear. We need more information if we're to allow these processes to continue.'
The CPRE represents a strong Middle England voice that is largely opposed to onshore wind farms and growing increasingly vocal in its opposition to shale gas and fracking.
'We're developing a more robust policy position and our local groups are very keen to ensure that before anything like extraction occurs, a full and transparent application to drill is made out in the open. The American experience clearly highlights the very serious risks of allowing unregulated extraction.
'We need to ensure the planning system gets to grips with this to stop applications going through under the radar. The search for shale gas in Sussex needs to be done with the full support of local communities who are most at risk if things go wrong,' says Leveridge.

Fracking comes to West Sussex
Given that the latest fracking site, in leafy West Sussex, is just a mile away from a reservoir serving 65,000 residents, the fight is on and old rivalries are being, however reluctantly nevertheless expediently, forgotten.
More than 300 people packed the Balcombe Victory Hall on Jan 11th to debate the biggest threat to the UK environment outside of opencast mining and nuclear power.
Mark Miller, CEO of Cuadrilla Resources, the leading fracking company operating in the UK, lined up against a united army of tweeds and combats in what was a vociferous get-together and far from 'chummy' affair for the homespun Miller, of Bradford County, Pennsylvania.
With their exploratory sites near Blackpool on hold following two quakes in April and May 2011 (2.2 and 1.5 on the Richter scale) there are three Cuadrilla sites slated for the south with Balcombe one step away from production.
Which was why Mr Miller could be bothered to give this public meeting top billing; win here and the prize could be immense, lose then fracking could possibly go the way of GM and the forest sell-off.
And Cuadrilla's Australian holding company, AJ Lucas, (specialising in Mountain Top Removal in Colarado) could certainly do with the returns at the moment, reeling from having a share price in freefall; Hong Kong-based investment servicing a $90m debt. Cuadrilla's other holding company, Riverstone Carlyle is registered in the Cayman Isles with MD and partner, Lord Browne, formerly of BP.
Vanessa Vine, from No Fracking in Sussex, organised the Balcombe meeting: 'They haven't reckoned on the huge groundswell of well informed and highly capable opposition in the south of England.'
This opposition is made up of professionals - risk assessors, insurers etc with their views summed up neatly on the village's newly-fangled, Wordpress website by resident, Nancy Towers:
'...there are many people in the village of Balcombe itself who do care deeply about the environment and may consider themselves Green, or of Green persuasion. I personally would like to thank any the folk from outside the village for caring enough to give up their valuable time and effort to point this whole issue out to us, as nobody initially seemed to be aware of any of it! [No objection from parish or county council in 2010, no public consultation.] At the moment it is a threat to our immediate back yard, not theirs, however, this issue affects us all and if this disgusting practice of fracking sneaks through...then it won't be long before it is prevalent everywhere in our green and pleasant land.'
The land in question is owned by the Greenwood family of the Balcombe Estate who have leased it to Cuadrilla for a rumoured £18,000. Simon Greenwood sits on the parish council; his father Richard received an MBE in 2009 for services to the community, presumably not held in such high regard now.

Balcombe itself is an AONB and pristine, traditional English countryside. It is heavily faulted with a network of underground streams stretching from the nearby River Ouse. The impressive Viaduct forms part of the London to Brighton rail line and is without steel re-enforcements and therefore prone to movement.  
The 'outsiders' who stirred murmurings of their own with visits to the village six months ago, support the recently formed direct action campaign, Frack Off. One speaker from the floor at the recent meeting, said. 'You could say the village is blessed as this is the start, by stopping this development you stop all the others.' (Coastal Oil & Gas Ltd, Dart Energy (Europe), UK Methane Ltd...)
This was during the stormy Q&A session following the slick presentation by Cuadrilla, and more down to earth affair from, Will Cottrell, of Brighton Energy Co-op and the informal national grouping, Hydro Fracturing Research.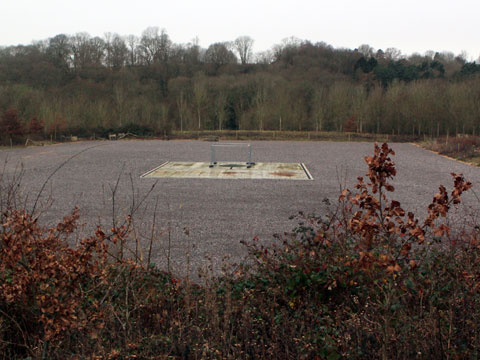 A shale gas drilling site in Balcombe, Sussex (photo: Alec Smart)

He explained how the aquifer at the Lower Stumble site is 1,000ft down with the Kimmeridge Clay at 2,000ft where Cuadrilla's exploratory drill would bore down to.
'The gap between the water table and chemical fluids from the drilling is not that great. Bearing in mind an earthquake can cause fluids to rise 2,000 ft, you can see how dangerous it is. Miller said that it would need a 5 Richter scale quake to damage the London to Brighton railway. Recently in Arkansaw, one of the US's most concentrated fracking areas, there was one of 4.7.'
Miller claims the geology of the area is so different that anything over 3 would be nigh-on impossible, saying that in the Cuadrilla-commissioned study (published Nov 2011) following the Blackpool quakes, 'any small anomalies, we now act on'.
When a question came from the floor as to whether he would let his kids live near the site, he said they grew up in Pennsylvania next to one, the swift reply coming: 'That's negligence in my book.'
Miller went on to add: 'We have no immediate plans to drill. We have a three years' lease which we can renew year by year. To get a production licence [the next step if gas or oil is discovered] will be a two-year process.'
He explained how water would be 'trucked in' and said if gas was discovered then they'd "put in a small power plant size of a football pitch and run cables to generate electricity".
The current licence grants exploratory drilling until 2014 with checks on safety and water by the Environment Agency and the HSE.  The one chemical Cuadrilla claim they would use is polyacrylamide, a coagulant not known for carcinogenic properties.
In the meantime it's developing closer links with Government, through PR arm, PPS, the lobbying group with Nick Sutcliffe, also a planning councillor on Guildford Council, appointed to run the campaign.
Chris Huhne, the Environment Secretary has already given fracking his support despite a ban in France, some US states plus 100 cities, and the Vale of Glamorgan.
No UK wells drilled have yet to be production-tested, so there's no reliable UK reserve estimate. In 2010/11 Cuadrilla estimated 200 trillion cubic feet of shale oil at Bowland Shale, Blackpool, the British Geographical Society stating, four trillion.
The latest BGS study reckoned on 5.3 trillion cubic feet nationally, almost 2 years of UK gas consumption.

Useful links
Cuadrilla Resources
Frack-Off
 
READ MORE...
NEWS
UK urged to ban controversial 'fracking' gas-extraction
Gas extraction plans underway in Lancashire would pose a serious risk of contaminating ground and surface waters, says Tyndall Centre report
NEWS ANALYSIS
Shale gas fracking 'probable' cause of Lancashire quakes
Controversial 'fracking' technique to extract gas from the ground was the 'highly probable' cause of earth tremors, report finds
NEWS
Europe's scramble for gas sees controversial hydraulic fracturing cross the Atlantic
In the US, gas-extraction in the Marcellus Shale has been linked to pollution and social conflict. Now Halliburton, Chevron and Exxon, among others, want to bring the so-called 'fracking' process to Europe, reports Luke Starr
INVESTIGATION
UK shale gas boom 'may be dirtier than coal'
Despite outrage in the US over 'fracturing' techniques used to extract shale gas and new evidence its greenhouse gas footprint may be higher than that of coal, the UK has given the go-ahead to companies here to begin drilling. Tom Levitt reports from the centre of this potential unconventional gas boom near Blackpool
NEWS
UK's 'fracking' gas-extraction is not unconventional says industry
The controversial gas-extraction process known as 'fracking' is safe, says UK-based Cuadrilla Resources, and not a threat to ground or surface water supplies