Since 1966 the family-run Michael Edward Ltd factory in Walthamstow, London, has been turning out fashion for the cream of the world's designers. Renowned for its attention to detail and fast turnaround, it's now at risk of closure due to decades of dwindling orders. Now former costume designer Jeanette Ferrier and owner Michael Edward, along with PR brain Anisa Topan, have launched a tote bag emblazoned with the words Shut Tup in the hope that sales can keep the factory alive. 'It's about educating people about our British factories shutting up shop,' says Topan. 'We have so many exciting ideas but we need other designers to come on board and get their ranges made in our fashion factory.' The Shut Tup slogan, adds Topan, combines politics and wit to get people to put their money where their mouth is, stop complaining about goods being made overseas and to buy British instead. 'It's time to feel proud about being British and more importantly, put our money where our mouth is.'
The decline of the London factory is a story that is being repeated nationwide. At its peak, Michael Edward employed 110 staff. Now just 12 people earn their living there. Where it used to have two or three big clients signed up for the long haul, it now has four or five smaller brands putting in orders month to month for much smaller collections. But it's not all bad news and for others, reinvention has been the route to survival. Manchester's Cooper & Stollbrand, known for making outerwear for Paul Smith, Topshop, and All Saints among others, was once at the centre of coat making. It too has felt the knock-on effects of the slow down in British fashion manufacturing but remains busy; the only factory along the River Irwell – a manufacturing area that once employed 70,000 people – still open. Now Cooper & Stollbrand is producing its own menswear collection, Private White VC, to keep heritage tailoring and skills alive.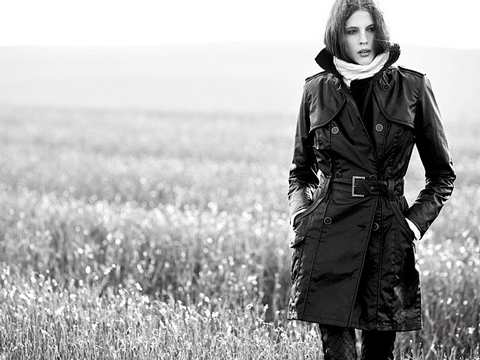 This kind of passion is what's driving the fashion industry's new appreciation of British craftsmanship, raw materials and textile expertise. London-based textiles design studio, Wallace & Sewell, turned its attention to bygone industrial techniques to produce textiles designed by hand. Founders Harriet Wallace-Jones and Emma Sewell use yarn sourced from UK companies, and produce and finish at two Lancashire mills and they've noticed a sea change in the way British manufacturing is seen. 'A lot of mills closed when manufacturing went to Asia but the UK has a good reputation for quality and we've noticed a lot of customers happy to see our products are made exclusively here,' says Sewell. While cost has driven many brands out of the UK, quality has kept many at home and brought many flocking back. Heritage brands such as Barbour are also helping to drive the trend, with the company producing 140,000 classic waxed cotton jackets in its South Shields factory every year, as it has since 1894.
Sara Kelly and Paul Vincent, founders of SEH Kelly, a timeless menswear brand, scours the UK for mills that have seen better days and puts them back to work. They share a passion for Britain's hidden gems and love manufacturing in the UK, using only British materials. 'It is more expensive so our products cost more but our customers seem to understand the value of UK made and appreciate knowing the provenance of their garments,' says Vincent. This is the antithesis of fast fashion as production runs can be as low as five or six and even the history of the buttons is available to the customer. 'These mills rely on loyal and continuous custom,' he adds. 'We've lost two makers since we started but there are still some really great places left. I like being able to visit the makers, I like the stories they have to tell and the history behind the mills.'
This personal rapport with makers is a positive plus for designer Victoria Eggs, who produces screen-printed designs on mugs, t-shirts, aprons and tea towels and talks about her suppliers, based in Stoke on Trent and Lincolnshire, like they're friends. 'I go for a beer with them and we get completely overexcited about a new hem label, swing ticket or material. I wouldn't get that with someone in China. It does cost more but the value added and benefits for me far outweighs this.' Her decision has paid off, and 2011 saw her win Gift of the Year Award in the Made in Britain category and garner a slew of orders from department stores, attracted by her British heritage.
But cost isn't the only issue facing British manufacturers. When UK designers and brands headed China, Turkey and Poland en masse, cheaper costs were certainly part of the attraction but not the only one. In 2009, the Centre for Fashion Enterprise (CFE) published a government-funded report to find out why Italian and French rivals had such a competitive edge. Was it because they, unlike us, had fashion factories on their doorstep? What was it about our vision, products and processes that was holding the British textile industry back? The answers that emerged from the report were illuminating. The specialist skills needed to maintain consistently high standards had faded, finance was hard to come by and infrastructure weak. Investment in new technology was limited, especially from smaller fashion manufacturers and knowledge about products and product cycles was poor on all sides.
Along came funding from the European Regional Development Fund and a new initiative – Designer Manufacturer Innovation Support Centre (DISC) – was born early this year to address these needs. 'It's all about innovation,' says Wendy Malem, Director of the CFE and of DISC. 'Making is innovating. We have really fantastic creative designers in London who rightly have had the focus, but let's support them with innovation through manufacturing now.' DISC will support fashion manufacturers and designers in the luxury sector and help them improve their business models, products and services. This will help people like Marissa Montgomery, designer and founder of lingerie brand Pussy Glamore, who moved her production from the UK to Morocco, not only for cheaper prices but because 'of the high quality and finish achieved in Morocco and the machinery required for certain details.' Our producers are getting older too. In 'The Value of UK Fashion' report, the British Fashion Council points out more than 60 per cent of the workers in the textiles and manufacturing sectors are over 40 years of age. The industry needs to attract more young blood to retain its skills base and worldwide reputation.
The UK Fashion & Textiles Association (UKFT) recently launched the Let's Make It Here campaign aimed at making it easier for the two sides of fashion coin to meet and make. UK manufacturers can publicise their details for UKFT members and the system covers all stages of the supply chain. If word of mouth helps grow the database, the resource could help keep UK manufacturing alive. There is also more interest in UK made on the high street. Topshop has announced it will double its lines produced in the Britain this year (although it declined to specify any figures) and ASOS is rumoured to be expanding its UK base too. The made-in-Britain tag may have disappeared for a while but it's still important for UK jobs, skills and the environment, as well as for consumers who want a product that's genuinely high quality. Hopefully, 2012 will be the year British manufacturing becomes fashionable again.
For more information on the campaign to keep Michael Edward LTD alive, go to trashon.co.uk
 
READ MORE...
GREEN LIVING
The Ecologist meets… Safia Minney and Santo Haque
With Fairtrade Fortnight in full swing, Ruth Styles caught up with People Tree founder, Safia Minney, and Swallows director, Santo Haque, to find out why hand weaving is set to be fashion's next big scandal
GREEN LIVING
Fashion special: And this season's colour is… green
From local manufacturing to natural textiles, times are changing in the fashion industry. What's more, the new look eco fashion isn't just green – it's seriously cool as well. Ruth Styles reports from London and Copenhagen
GREEN LIVING
The Ecologist meets… Orsola de Castro
The designer and Estethica founder chats to Ruth Styles about upcycling, showcasing new green talent and why eco-design has earned its place at the top table of British fashion
GREEN LIVING
The future's vert: why green is the new black in Paris
Paris is famous for its chic spin on glamour but also for its fur, its waste and its excess. But with green designers slowly making inroads, things could be about to change, says Lida Hujić
GREEN LIVING
Risqué business: how Holloway-Smith Noir is making burlesque fashionably green
Eco-friendly smalls anyone? Green Living editor Ruth Styles meets the duo turning burlesque glamour into planet-pleasing nipple pasties