I am so grateful to have witnessed the sensible sustainable management of these wild herbs. 
When I first came to Ta Phin Village, three years ago, I had to dismount my moped at the base of a muddy slope. It was about a mile away from my destination. However, by the look on the faces of a small crowd of local people there was no other way to get through.
So, somewhat reluctantly, I parked my bike along with another half a dozen others and squelched onwards. I have regularly visited this region since, but upon my most recent visit things are beginning to noticeably change – a bigger road is coming.
Ta Phin is situated in the mountains of Northwestern Vietnam, bordering China. The village is near the former French hill station town known as Sa Pa. These verdant hills and valleys consist of iconic rice terraces, some of the world's most stunning scenery, and are inhabited by a colourful collection of Vietnam's myriad ethnic minorities. 
Diaspora tales
A total of 87 percent of the Vietnamese people are known as Kinh (Viet), however, there are fifty-four separate ethnic groups living within these borders.
This complex assemblage of communities in Vietnam has an equally diverse historical background: some groups are thought to have arrived over 2,000 years ago, whilst others more recently, from over the last five hundred years or so.
Those in the Central Highlands of Vietnam and the Mekong Delta region have migrated from the west, whilst those farther north have migrated southwards from China.
Each ethnic group has its own diaspora tales; whatever their story — these communities have found home and settled in Vietnam.
Embroideries translated
Ta Phin village is predominately Red Dao (pronounced zow). The settlement itself is a mere crossroads of two muddied tracks.
Ethnically garbed women sit in clusters embroidering their wares. The Red Dao women are easily identified by their distinctive bright red and white headscarves, their indigo dyed hemp jackets and trousers — at times fronted by complex silver jewellery — all elaborately embroidered with distinct colours and motifs.
I was privileged to have some of the stories of their embroideries translated for me and was surprised to hear that many of the intricate patterns depicted their diaspora.
Journeys over mountains, changes in trees from fruits to pines and curiously bright yellow and gold swastikas. "What are these?" I enquire. "Ah, they are the tiger's footprints in the snow." 
Land labourers
I am so grateful to have witnessed the sensible sustainable management of these wild herbs. 
One particular family I have stayed with over time have allowed me great insight into their ancient way of life. Their homestead on the outskirts, down by the river, is where my lovely friend Tan Ta May and her husband Sieu live.
May is a Red Dao medicine woman: the Dao are renowned for their wisdom in regard to plant medicine.
Here the extended family run a small business for herbal bathing. Wooden tubs are filled with an extremely hot brew concocted from local plants and trees.
One immerses into the sweltering hot tub and slowly sinks into the medicinal infusion. It's a heady and steamy experience.
As hot as one can bear, yet with windows open to views of rice terraces, lush hillsides and water buffaloes — all accompanied by the babble of the adjacent stream; it's a simple paradise.
Whether to alleviate the aching limbs of hard worked land labourers, to detoxicate or simply to relax – this 'therapy' is at least locally a well-known cure-all; and May and Sieu have the reputation to run a good business. 
Commercial operations
However, traditionally the main ingredients for this treatment have been locally foraged – but visitors are coming from further afield, and the demand for the baths is increasing.
Larger commercial operations are also in the main town and surrounding areas. In addition, the concentrated liquid for these baths can now be bought by the bottle.
Other vital ingredients have been concentrated into essential oils and now soaps are also being made. It's proving very popular amongst the Vietnamese and trade is increasing into the northern cities such as Hanoi and even as far south as Saigon.
All good for business – but nonetheless, the forest's supply is finite. And here is the positivity I encountered.
Through an amalgamation of a recently formed Red Dao cooperative (2015), a Vietnamese NGO and funding from the Vietnamese government and some foreign investment — a little bit of cash is hopefully going to go a long way to protect at least one of the essential herbal ingredients being utilised by this group.
The plant is known locally as Chu Du (pronounced chew zoo) Elsholtzia penduliflora. A relatively tall plant of the mint family, with a delightful aroma and almost magical properties, indeed I personally call it 'magic oil'.
I use the concentrated form on a daily basis. I live in one of the most polluted cities in the world, Hanoi. The oil can be rubbed on your chest, face and head and it immediately relives breathing, blocked sinuses and gives a sense of calm – a wonder it truly is.
Deftly scythed
So, on my most recent visit – the main question on my mind was — 'how was money going to help protect an endangered plant?'
Upon arrival, May walks us up and down some serious hills and deep into the forest. Here we arrive at extremely isolated small holdings, only women and children at home, the men are out ploughing the terraces for the next season of rice.
Surrounding these large, dark and smoky old wooden houses are farms that simply blend into the surrounding forest. From the chickens in the wood pile to the pigs in their sties, all seemingly merge quite naturally.
As we step into the forest I saw pots of orchids under the canopy, one essential source of income for these mountain dwellers. And then through marshy areas and onto the forest edge and I am introduced to patches of Chu Du.
I witnessed the careful harvesting of this wild plant. Deftly scythed to ensure regrowth and a quick demonstration of how easily it is to propagate by simply taking a stem and sticking it back in the mud.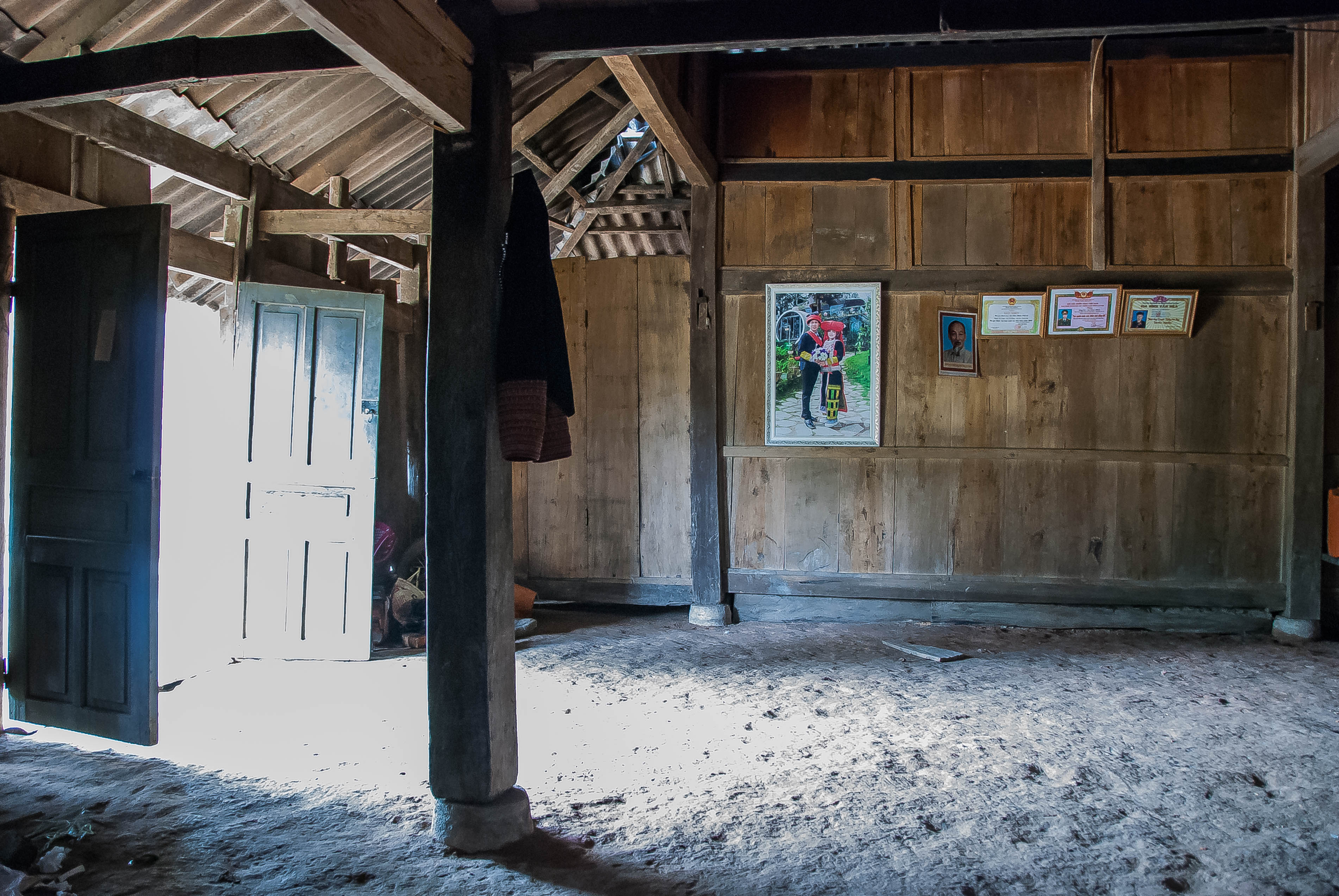 'How then is cash going to prevent overharvesting?' It is simply a matter of land and time management amongst the entirely female cooperative.
With some money and an emphasis on the importance of these forest plants, the Dao women are able to prioritize attention to their foraging activities.
It gives value to the wooded area where the Chu Du grows and may prevent forest clearance for future arable growth or livestock grazing. The investment will also allow for simple fencing to protect against the free-range buffaloes.
Last year May's own operation required 14 tons of Chu Du, 700kg of the plant is needed to make 1 litre of essential oil. She is not alone, many people in this region are commercialising their plant medicine enterprises, I am so grateful to have witnessed the sensible sustainable management of these wild herbs.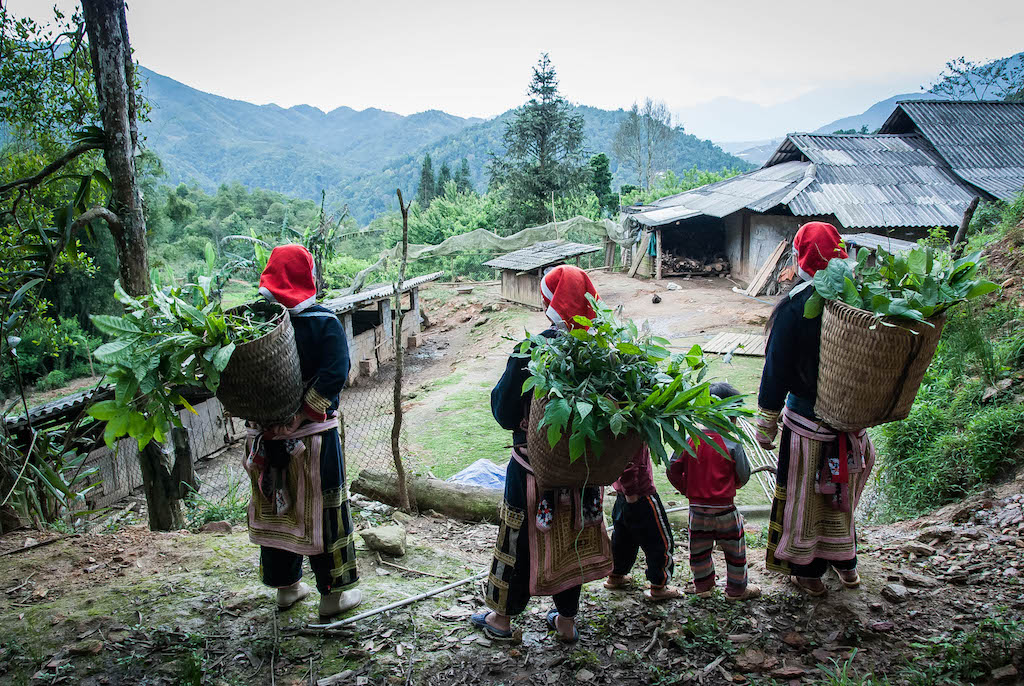 This Author
Grant J Riley is a writer, photographer and freelance ecologist from the south-west of England.  He is the author of A Journal from the End of Times and Marginal. To find out more, visit www.lulu.com.