The Resurgence Trust is an educational charity that promotes ecological sustainability, social justice, ethical living and spiritual values. It brings together a community of like-minded individuals and groups who believe a more sustainable way of life is possible.
•    The Resurgence Trust publishes Resurgence & Ecologist magazine, the UK's only independent publication that focuses on ecology and the arts.
•    The magazine, originally published as Resurgence in 1966, has its roots in the peace movement.
•    Satish Kumar has been editing Resurgence since 1973 and is now the Editor-in-Chief of Resurgence & Ecologist magazine.
•    High profile contributors include Margaret Atwood, Jonathan Dimbleby, Antony Gormley, Annie Lennox, the late Václav Havel, Andrew Simms, the Dalai Lama and HRH The Prince of Wales.
•    Resurgence & Ecologist magazine is published six times a year and is available in print and online.
More about The Resurgence Trust
•    The Resurgence Trust hosts regular events, including an annual conference and summer camp. Speakers at these events have included George Monbiot, Jonathon Porritt, Caroline Lucas MP, Peter Owen Jones, Rupert Sheldrake, Vandana Shiva and Deepak Chopra.
•    The charity has excellent links with a range of like-minded organisations including green and student bodies, amongst them Friends of the Earth, Our Future Planet, Green Books, Schumacher College, Green Alliance, Green Party, RSPCA and the New Economics Foundation.
•    In June 2012, The Resurgence Trust joined forces with the Ecologist. In addition to creating a joint publication, Resurgence & Ecologist, the charity now maintains the Ecologist website, in addition to The Resurgence Trust website.
•    The Resurgence Trust website provides a free and extensive archive of articles from the magazine, plus educational resources and more information about The Resurgence Trust.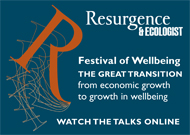 The Resurgence Festival of Wellbeing 2012 
In September 2012, Resurgence & the Ecologist held a festival of wellbeing to celebrate The Great Transition – from economic growth to growth in wellbeing and to mark the 45th anniversary of Resurgence magazine. 
The Resurgence Story
A short video about the work of The Resurgence Trust: Resurgence Story from Simolab-Creative AV on Vimeo.